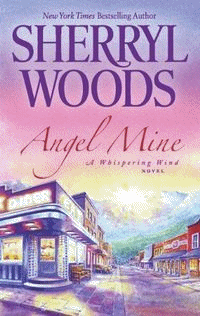 New York Times bestselling author Sherryl Woods ushers in the New Year with AFTER TEX and ANGEL MINE (January and February 2013) —two reissues of her fan favorite Whispering Wind novels, which were originally published in 1999 and 2000. These charming romances, set in Whispering Wind, Wyoming, prove that a little compromise can go a long way and that family always comes first. As a nod to the western setting, Sherryl will give one winner a gorgeous Canyon Ridge sequined leopard print tote bag to help tap into her inner cowgirl. The lucky winner will also receive a copy of February's ANGEL MINE to tuck into her new bag so she'll always have a great read handy when she rustles up a bit of free time. The first book in the series, AFTER TEX, is already available in bookstores. For more information, visit the Books section at www.SherrylWoods.com.
Two additional prizewinners will each receive a book from Sherryl's backlist.

ANGEL MINE
Order Today
Heather Reed thought she was making the right choice when she decided to raise her daughter, Angel, on her own. But three years later, Heather realizes she needs help. Her career as an actress is faltering, and Angel's more than she can handle alone. It's time to track down Angel's father . . . only problem is, he doesn't know Angel exists.
Heather's search leads her to Whispering Wind, Wyoming. If Todd Winston is dismayed to see his old girlfriend show up in town, he's shocked when he looks into the angelic eyes of the little girl who is clearly his daughter. Todd flatly refuses to open his life to Angel. Heather flatly refuses to leave town until she finds out why. Amazingly, they discover that through compromise and understanding lays the road straight to family.
Learn more about Sherryl on her blog at www.JustBetweenFriendsBlog.com and explore her novels at www.SherrylWoods.com.
Contest ends: January 31, 2013