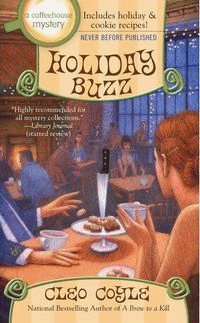 Cleo Coyle's new culinary mystery, HOLIDAY BUZZ, is now a Top-10 New York Times bestseller! To celebrate, she's giving away these prizes to Fresh Fiction fans...
1 of you will win a $50 gift card to your favorite online bookstore and a signed copy of HOLIDAY BUZZ, a "perfect Christmas mystery" (RT Book Reviews) that features plenty of delicious cookie and holiday recipes!
2 of you will win signed copies of HOLIDAY BUZZ!
Praise for HOLIDAY BUZZ
"The food, the snow, and the likeable characters are delightful. If you're a sucker for all things Christmas, this book is for you." —New York Journal of Books
"Jingle bells, beautiful displays, scrumptious treats: Holiday season in New York City has it all, including murder...This fine mystery is followed by some holiday recipes that will even pack the pounds on readers who are only browsing them." —Kirkus Reviews
A Mystery Guild Featured Alternate Selection
Love, recipes, and murder for the holidays from Cleo Coyle...

HOLIDAY BUZZ
Order Today
At the close of a glittering winter charity party, coffeehouse manager Clare Cosi finds the bludgeoned body of a pretty baker's assistant—a young woman Clare knew and liked. When the detective in charge pursues the wrong suspect, Clare starts asking her own questions. Soon she's dodging a pair of reality show divas, hoodwinking a randy hockey player, outwitting a conniving Cajun cook, and butting heads with one of the biggest forensic freaks in the New York Police Department.
Clare's boyfriend, NYPD Detective Mike Quinn, has his own theory about the case. Clare loves and trusts Mike, but she finds good reasons to follow another lead—one that puts her life in danger. Come along for the ride with Clare, and you'll be treated to the magic of New York in December; a cagey "undercover operation" led by Clare's elegant employer (Madame) at a Brooklyn retirement community; and the plotline of the latest hit kiddie movie: Santa Claus Zombie Hunter!
HOLIDAY BUZZ also includes an array of delicious recipes for your holidays, including cookies, desserts, main courses, and drinks.
For a peek at my illustrated recipe guide to Holiday Buzz, click here.
May you read (and eat) with holiday joy,
~ Cleo Coyle
Visit Cleo at her online coffeehouse: www.CoffeehouseMystery.com
A Fresh Fiction Fresh Pick!
SEE THE COFEEHOUSE MYSTERY BOOK TRAILER HERE
Contest ends: January 6, 2013