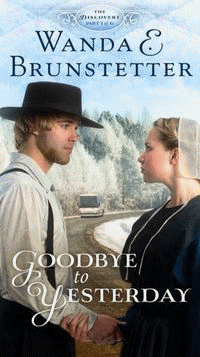 Award–winning and New York Times bestselling author Wanda E. Brunstetter, one of Amish fiction's earliest and most well–known authors, launches The Discovery Saga, a 6–part serial novel series with Book 1, GOODBYE TO YESTERDAY in February. Set in Lancaster County, a favorite among readers of Amish fiction, The Discovery offers a compelling love story brilliantly mingled with an unexpected twist.
In keep with the story's setting, Wanda will award one grand prizewinner a handcrafted Amish jewelry box and a copy of GOODBYE TO YESTERDAY. Made of all–natural oak, the 11–inch wide x 6 3/4 deep x 5 1/2–inch high box contains a removable wooden tray with several compartments to hold earrings, rings, or small jewelry. Keepsakes and larger items can be stored under the tray. The box, signed by the Amish crafter, features a brass, latch closure on the front. Four additional winners will receive a copy of GOODBYE TO YESTERDAY.

GOODBYE TO YESTERDAY
Order Today
Instead of experiencing newlywed bliss, Meredith and Luke Stoltzfus face myriad challenges. Financial struggles. Arguments. A confirmed pregnancy. When Luke loses his job, he jumps at the chance to learn a new trade from his uncle in Indiana. Despite his wife's reservations, Luke makes plans for a quick trip to Middlebury. Along the way, Luke is accosted by a desperate drug addict on the run. When Luke refuses to hand over his wallet, a violent encounter erupts, and the course of his and Meredith's lives change forever. Will their love and faith be strong enough to bring them back together?
To learn more about Wanda's novels, Amish facts and to see photos of her travels, visit www.WandaBrunstetter.com.
Contest ends: January 31, 2013