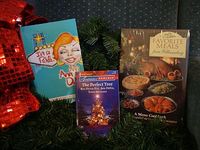 Ann DeFee welcomes you to a Colonial Williamsburg Twelve Days of Christmas. To celebrate this event she's giving away a Favorite Meals from Williamsburg cookbook, and autographed copies of both IN A PICKLE and THE PERFECT TREE. IN A PICKLE is available on most digital readers. Have a very Merry Christmas and a Happy New Year.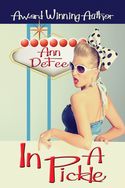 It takes a heavenly wink and a couple of wannabe angels desperate to win their wings for Mary Louise "Pickles" Carson and Cam Hollinwell to realize they're soul mates. A Las Vegas teacher with a proclivity for all things vintage, Pickles' dream is to have a baby. Considering her sex life is a big fat zero, that seems impossible. Cam is a washed up journalist whose only goal in life is to return to mainstream reporting. What will it take for these two very different people to fall in love? How about a miracle?
Pickles is playing video poker when the angels bowl her over with the news she's pregnant courtesy of an obscure scientific miracle called parthenogenesis--conception without the benefit of a male found in plants and lower level species. Cam's journalistic career was tanked by a false date rape charge, and now he's reporting on Elvis sightings for a national tabloid. His task is to publicize the angel's miracle. In return they'll help him resurrect his career.
Our hero and heroine soon find themselves in a world of murder, mayhem and all things Elvis. Add in a budding romance, the devil's hunky minion, and an inept villain--then set the story in a Vegas that tourists rarely see with a cast of eccentric characters, and you have all the elements of a rollicking good time.
Contest ends: January 6, 2013