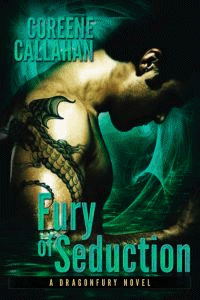 Coreene Callahan's fantasy romance series has eager readers clamoring for more from this talented new author. Last month marked the release of her third Dragonfury novel, FURY OF SEDUCTION. Fans of the first three books can't wait for the next installment in this addictive series, FURY OF DESIRE, coming out in 2013.
While anticipating this release, the lucky winner of Coreene's December contest will receive a copy of the just–released FURY OF SEDUCTION. And this dreamy dragon woodstove steamer will bring both warmth and style during a late night of reading.

FURY OF SEDUCTION
Order Today
In love, as in war, great sacrifices must be made.
New to the Nightfury pack, dragon–shifter Mac cannot understand the bond between his brother–in–arms and their human mates—until the moment he spies Tania and the energy bond between them blazes to life. Driven by primal instinct, Mac will stop at nothing to find Tania, to keep her safe—to possess her. He has no time to waste. Ivar, leader of the rival Razorbacks, hunts her too, hungry for a new high–energy pawn with which to destroy the human race.
Caught between the warring factions, Tania finds herself immersed in a world she never knew existed—and bound by a love stronger than time. With Mac, her safety from Ivar, and the perils of the human world, is assured, but still she is left with a terrible choice: forsake the independence she's fought so hard to achieve and reclaim the life she loves, or abandon the man who now holds her heart.
"Ms. Callahan really is a wonderful and descriptive storyteller. I was captivated through and through." ˜ Under the Covers
"There's no doubt in my mind that there's something special about this Dragonfury series. Not only did she create a wonderful kind of dragon shapeshifter, but Coreene Callahan has succeeded in creating great characters that have you coming back for more." ˜ Tynga's Reviews
"With Fury of Seduction and the entire Dragonfury series, Coreene has created a separate culture which must dip into our world in ways that create interesting conflicts, with unique characters that make you want more. I highly recommend this series and FURY OF SEDUCTION." ˜ Fangs, Wands & Fairy Dust
To find out more about this exciting new author, visit her website at www.CoreeneCallahan.com, and "Like" her on Facebook for the latest news about the series and the next installment, FURY OF DESIRE.
Contest ends: December 31, 2012