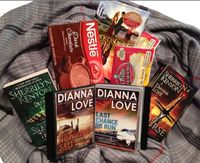 NYT bestseller Dianna Love is giving you a blanket, popcorn and hot chocolate so you can curl up for a weekend of romantic adventure that includes a signed copy of her new LAST CHANCE TO RUN romantic thriller, signed copies of SILENT TRUTH and THE CURSE, a Keeper Kase™ (www.KeeperKase.com) with signed cover cards (including a TIME UNTIME card signed by Sherrilyn Kenyon) and movie night with a The Princess Bride DVD.
By NYT best seller Dianna Love
Available December 5, 2012 - ebook & print
To an undercover agent, she's a Person of Interest. He's interested.
Escaping the compound of a deadly international felon--with a fortune in rare, stolen coins hidden on her body--elite athlete Angel Farentino has to make the most important run of her life. Literally. With her father in prison, where he belongs, and a prior undeserved conviction hanging over her head, she has nowhere to turn and no one to trust. Definitely not law enforcement who railroaded her through a judicial nightmare. One step ahead of lethal men and dogs on her trail, she runs into the arms of a dark stranger willing to help her if she'd let him. But that would only get the sexy pilot killed.
Between figuring out who's sabotaging his undercover work for the DEA and trying to save his baby sister from herself, Zane Jackson has enough on his plate. The last thing he needs is to get entangled with a woman who's treading on the wrong side of the law. But when the long-legged distraction races into the middle of his operation and stows away on his plane, a primal need to protect forces Zane to risk everything, starting with his heart.
"I have three things to say about Dianna Love's writing...breathless pace...heart-stopping suspense...real characters you feel for." ~~#1 NYT bestseller Sherrilyn Kenyon
Contest ends: December 12, 2012