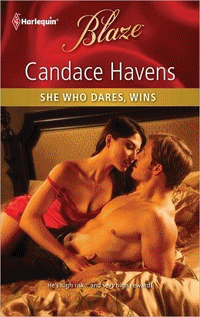 Let's sit and enjoy a HOT cup of cocoa with a couple of nice books from Candace Havens, SHE WHO DARES, WINS a Harlequin Blaze.
One winner will receive a SIGNED copies of SHE WHO DARES, WINS and TRUTH AND DARE. Talk about blazingly HOT!
And don't miss Candy's latest Blaze, ALL I WANT FOR CHRISTMAS...:, in stores and online NOW.
Order ALL I WANT FOR CHRISTMAS Today

It's cold outside, but these guys are roaring hot… Christmas Kisses by Lori Wilde
Santa's been arrested for arson? Defense attorney Alana O'Hara won't let holiday-hating sergeant Noah Briscoe ruin Christmas. She'll save Santa and find Noah's Christmas spirit…even if it means more than just kisses under the mistletoe!
Baring It All by Kathleen O'Reilly
After being rescued from a fire by paramedic Eric Marshall, Chloe Skidmore has amnesia. She's forgotten her past, her hurt—and Eric. But as the spark between them reignites, there's still a teeny problem…Chloe's wedding ring!
A Hot December Night by Candace Havens
Assistant Fire Chief Jason Turner wasn't expecting to have his head turned by party planner Kristen Lovejoy. Especially at Christmas. But when chemistry takes over, things get out of control…and this is one blaze Jason won't be able to put out!
Contest ends: December 12, 2012