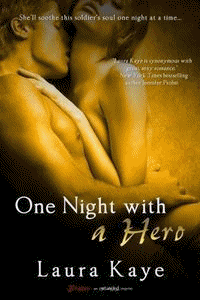 A glass of wine. A cozy blanket. A crackling fire. And One Night with a Hero...the perfect book to curl up with this holiday season! Whether you're in the mood for the playfulness of Halloween, the togetherness of Thanksgiving, or the joy and festiveness of Christmas, this book offers it all! And a $50 gift card to your choice of Amazon or Barnes & Noble will make the season that much more merry - so enter today!

One Night with a Hero
Order Today
He wants just one night...
After growing up with an abusive, alcoholic father, Army Special Forces Sgt. Brady Scott vowed never to marry or have kids. Sent stateside to get his head on straight—and his anger in check—Brady's looking for a distraction. He finds it in his beautiful new neighbor's one–night–only offer for hot sex, but her ability to make him forget is addictive. Suddenly, Brady's not so sure he can stay away.
...what they need is each other.
Orphaned as a child, community center director Joss Daniels swore she'd never put herself in a position to be left behind again, but she can't deny herself one sizzling night with the sexy soldier who makes her laugh and kisses her senseless. When Joss discovers she's pregnant, Brady's rejection leaves her feeling abandoned. Now, they must overcome their fears before they lose the love and security they've found in each other, but can they let go of the past to create a future together?
Contest ends: December 12, 2012