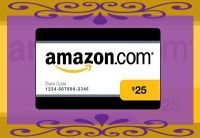 November begins the festive build-up to Julia's favorite holidays, Thanksgiving, Christmas and New Years. All resonate with memories of time spent with loved ones and families, enjoying the friendship, fun, laughter and love that are the best blessings of life. To lead you into the holiday season, Julia is offering one lucky winner a $25 Amazon gift certificate.

Society's Most Disreputable Gentleman
Order Today
Greville, who was fired from his job as estate manager and then abducted and pressed into the Royal Navy, returns after 8-month's service at sea a radically different man. Eager to obtain his release and pursue an honest career, he has little interest in the idle Society he used to frequent. But despite his vow to reform his rake's ways, how could he help but flirt with his host's beautiful daughter Amanda?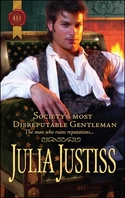 For her part, Amanda Neville has dreamed since childhood of becoming a brilliant Society hostess. She's not about to risk that goal by dallying with a younger son of little fortune, no matter how scandalously attractive he might be!
Society's Most Disreputable Gentleman



Contest ends: November 30, 2012