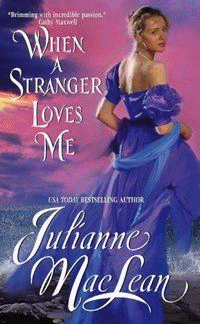 Enter the luxurious and romantic world of Pembroke Palace – set in the gilded age of Victorian England – where an aging duke believes all four of his sons must marry by Christmas in order to thwart an ancient curse. The first three brothers find love on time, but the fourth brother remains inconveniently out of reach...
Julianne will autograph all three books for you, and here they are in order. Good luck!

IN MY WILDEST FANTASIES
Book 1
Order Today
Four years ago, a mesmerizing stranger pulled Lady Rebecca Newland from her runaway coach, galloping to her rescue in a fog–shrouded forest. Though she was just seventeen, Rebecca felt an irresistible desire for the mysterious man and swore that she would someday be his bride. But now she is betrothed to another man whom she detests – and Devon Sinclair, the future Duke of Pembroke and her hero, lies tantalizingly beyond her reach...
Haunted by an unspeakable past, Devon has no intention of taking a wife, not even the enticing Rebecca. But then his father rules that Devon must wed by Christmas or forfeit his rightful inheritance. Now, with his fortune at stake, Devon sets out to lure Rebecca to his bed... where the most unexpected secrets and lies stand in the way of their scandalous, explosive passion.

THE MISTRESS DIARIES
Book 2
Order Today
He told me he would treat my heart with great care. He was lying of course, for it was all a very clever, skillful seduction...
The night I met Lord Vincent Sinclair, son of the Duke of Pembroke, was the night I lost control. I never imagined that I, Cassandra Montrose, could engage in such wicked, wanton behavior with a man I hardly knew. But in that fateful moment, alone in his coach, the passion I felt for him was undeniable, even though I knew that after my surrender I was unlikely to ever see my lover again. Until a fateful secret brought me to his door...
I always believed my pride would prevent me from becoming any man's mistress – especially a rogue like Vincent, who cares for nothing but his inheritance. Yet I have very good reason to remain in his life. If only he did not tempt me so...

WHEN A STRANGER LOVES ME
Book 3
Order Today
I saved his life, and I had much to demand in return...
When he washed up on shore, I knew my prayers had been answered, and that I, Lady Chelsea Campion, need no longer fear poverty and heartbreak. To secure my family's estate, all I needed was a child. Handsome, clearly noble–born, and with no memory of his previous life, the mysterious man was perfect. All I had to do was visit his bedchamber and seduce him.
I ad expected him to be a skillful, scandalously wonderful lover, but once in his arms I was overcome by something more than mere passion. I had fallen hopelessly, desperately in love.
My plan has gone shockingly awry. But I will not give up a man who makes me feel such wicked ecstasy. No matter his true identity, no matter the secrets he struggles to remember, I will do anything in this world to make this stranger love me.
Contest ends: November 30, 2012