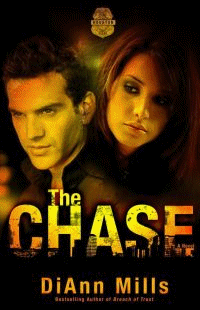 Now that the days are getting shorter, it's a perfect time to curl up on the couch with a luxurious throw and escape into a really good book. For her November contest prize, DiAnn Mills delivers the goods for her grand prizewinner's spoil–me escape. Who wouldn't feel comfy cozy wrapped in this lovely sky blue Jubilee throw as she turns the pages of DiAnn Mill's THE CHASE? In DiAnn's latest riveting read, TV–reporter–turned– women's–fiction–author Kariss Walker and FBI agent Tigo Harris relentlessly pursue justice for a little girl whose life was snuffed out before she even had a chance to dream.
Two additional winners will each receive a copy of that stellar read, THE CHASE.

THE CHASE
Order Today
Who could forget an unidentified little girl whose body was found in the woods behind a Houston apartment complex five years ago? Certainly not Kariss Walker, a TV news anchor who reported on the story.
Now a New York Times bestselling author, Kariss is compelled to turn the unsolved case into a suspense novel, to solve the murder in fiction, if not in real life. As she researches the crime, Kariss persuades FBI Agent Tigo Harris to re–open the case, and together they work tirelessly to find the girl's killer in a dizzying collage of suspense, faith, and romance.
But the search for the dead girl's missing mother yields a discovery that plunges the partners into a cauldron of danger. Will they solve the case, or will the case deliver them to the same fate as the child for whom they seek justice?
Visit www.DiAnnMills.com to read an excerpt, check out her mobile phone app and like her on Facebook.
Contest ends: November 30, 2012