Even if you aren't a quilter you'll find much to love in the books of the Cobbled Court Quilt Circle where women find support, help, friendship and most of all love in a small town in New England. Marie is giving away a copy of her latest book in the series, TIES THAT BINDS.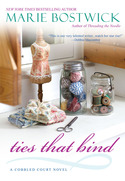 (Kensington April 24, 2012)
In her compelling, beautifully crafted novel, New York Times bestselling author Marie Bostwick celebrates friendships old and new--and the unlikely threads that sometimes lead us exactly where we need to be. . .
Christmas is fast approaching, and New Bern, Connecticut, is about to receive the gift of a new pastor, hired sight unseen to fill in while Reverend Tucker is on sabbatical. Meanwhile, Margot Matthews' friend, Abigail, is trying to match-make even though Margot has all but given up on romance. She loves her job at the Cobbled Court Quilt Shop and the life and friendships she's made in New Bern; she just never thought she'd still be single on her fortieth birthday.
It's a shock to the entire town when Phillip A. Clarkson turns out to be Philippa. Truth be told, not everyone is happy about having a female pastor. Yet despite a rocky start, Philippa begins to settle in--finding ways to ease the townspeople's burdens, joining the quilting circle, and forging a fast friendship with Margot. When tragedy threatens to tear Margot's family apart, that bond--and the help of her quilting sisterhood--will prove a saving grace. And as she untangles her feelings for another new arrival in town, Margot begins to realize that it is the surprising detours woven into life's fabric that provide its richest hues and deepest meaning. . .
Contest ends: November 30, 2012