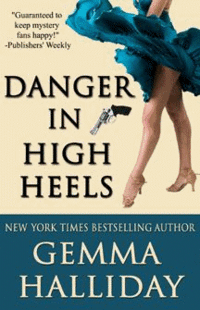 Win a Chocolate High Heel shoe! The expert cobblers of cocoa at Gayle's Chocolates have fashioned another masterpiece of edible glamor with this dark chocolate high heel. Sporting a white chocolate interior and a luster dust of deep red, the latest addition to Gayle's line of shoes features a diamond shaped toe decor and comes packaged in a reusable plastic purse with Gayle's classic satin bow. 7 inches long, 5–1/2 inches high. This highly delectable treat comes from the author of the High Heels Mysteries, where high crime meets high fashion.

DANGER IN HIGH HEELS
Order Today
Maddie Springer is all about fashion. So when her best friend Dana's movie star boyfriend, Ricky Montgomery, becomes a contestant on the ballroom dance reality hit, Dancing with Celebrities, she is over the moon at the thought of visiting the sparkly, spandexy costumes on the set. That is until Ricky's dance partner is found dead in his dressing room... in the nude! Suddenly the police suspect him of murder, Dana suspects him of cheating on her, and the reporters at the L.A. Informer, Hollywood's most notorious tabloid, have dubbed him "Dancing Death". Now it's up to Maddie to clear his name as she wades through a misfit cast of reality show dancers to find out just who has a grudge again the show's star... and who is in danger of taking their final bow next!
Contest ends: December 31, 2012