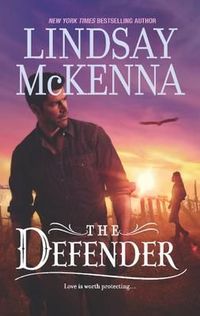 For those readers who are avidly waiting for my next book in the Wyoming Series, I wanted to get more deeply into another passion of mine: romantic suspense! If you enjoy action, adventure, threat, hot romance coupled with danger, you'll enjoy THE DEFENDER. Katie Bergstrom is a twenty-six year old raptor rehabilitator who tries to help wounded and injured raptors back to health in Jackson Hole, Wyoming. She was abandoned at birth by her mother. Rebelling, lost and always trying to find her mother, Katie goes through many foster homes and gets into teen trouble. She eventually winds up in Jackson Hole, where her luck changes and she's given a new lease on life. Raptors, with their own unique magic, focus her life and give her reason to thrive, despite her dark, unhappy past.

The Defender
Order Today
After escaping her troubled past, all Katie Bergstrom wants is to put down roots on her raptor rehabilitation facility outside Jackson Hole. She doesn't count on reconnecting with her estranged birth mother—or the recent appearance of a sexy ranch hand.
Former marine Joe Gannon is used to a life of risk. Working on the ranch, life is simpler...except for the undercover work he's been asked to do. Getting too close to Katie could damage his current operation. Yet despite his orders to remain suspicious, he knows she's innocent—and in danger. As he does everything he can to protect her, Katie can't help but fall for him. But after a lifetime of betrayal, is this too–secretive, too–seductive rancher someone she can trust?
Contest ends: December 31, 2012