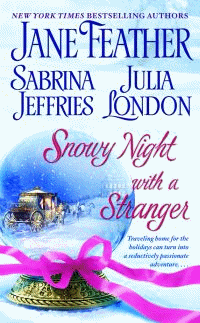 Christmas comes early for fans of Sabrina Jeffries, whose first-ever holiday hardcover, 'TWAS THE NIGHT AFTER CHRISTMAS, arrived in bookstores everywhere this month. Readers can pick up their copy of this soon-to- be holiday classic at their favorite bricks and mortar or online bookstore. In the meantime, one lucky winner will receive a copy of SNOWY NIGHT WITH A STRANGER, a holiday anthology featuring a novella from the New York Times bestselling author and some of her author friends, as well as a set of three charming St. Nicholas holiday ornaments.

'TWAS THE NIGHT AFTER CHRISTMAS
Order Today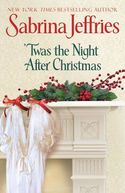 Dear Sir,
. . . I feel I should inform you that your mother is very ill. If you wish to see her before it is too late, you should come at once. Sincerely, Mrs. Camilla Stuart
Pierce Waverly, the Earl of Devonmont, has led an unabashed rogue's life, letting no woman near his heart. Inexplicably abandoned as a child to be raised by distant relatives, he never forgave his parents, refusing to read any of his mother's letters after his father's death. Then came a letter that shook his resolve. A Christmas visit to Montcliff might prove his last chance to discover the truth of his past, and come to terms with the stranger he calls "mother."
But two surprises await him at Montcliff. His mother is perfectly healthy, nowhere near a deathbed as her meddling lady's companion led him to believe. The second is Camilla Stuart herself, a lively vicar's widow with secrets of her own, too bright and beautiful not to arouse the scoundrel in Pierce. As the Earl's bold flirtation and suggestive whispers draw Camilla dangerously close, can anything protect her vulnerable heart? If they are destined to share real happiness, there must be honesty between them—yet telling him the truth about her own life may shatter that chance.
"Bestseller Jeffries (To Wed a Wild Lord) delivers a moving Regency with heart, soul, and holiday spirit . . . While Pierce tries hard to be a cold–hearted rake, his essential goodness is evident throughout, as is Camilla's irresistible optimism. The compelling, fast–paced, and lively tale wraps up with several surprising, tear–jerking twists."
—Publishers Weekly, starred review
"Sharply witty, deliciously sexy, and infinitely endearing, this holiday gem strikes an emotional chord that will resonate with fans long after the book has been closed. Jeffries's first hardcover release, it serves as a bridge between her recent "Hellions of Halstead Hall" quintet and a new series that is slated to begin next spring."
—Library Journal, starred review
"An utterly wonderful novel from the incomparable Jeffries. Emotional, sensual, smart and wonderfully romantic, this is the type of story that fills readers with joy and reminders of the spirit of the holiday, family ties and true love. There's humor, tenderness, mystery and passion enough to please everyone.
—RT Book Reviews, 4˝ stars, Top Pick & a KISS award for Pierce
To keep up with Sabrina, follow her on Pinterest, Twitter and visit her on Facebook. You can also check out her newly redesigned website at www.SabrinaJeffries.com. Be sure to download her free app from your mobile phone app store for the very latest news.
'TWAS THE NIGHT AFTER CHRISTMAS



Contest ends: November 30, 2012