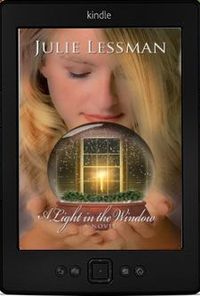 In A LIGHT IN THE WINDOW: An Irish Christmas Love Story, an e–book exclusive by award-winning inspirational romance author Julie Lessman, a young woman in 1895 Boston wholeheartedly seeks a man whose faith is as authentic and strong as hers. She finds herself attracted to two men, each with a reputation for being a rogue. Can she possibly reconcile her desire to do right with her heart's unexpected stirring?
To help light up your holiday season, Julie is offering one grand prizewinner a Kindle (or an equivalent Amazon gift card) loaded with A LIGHT IN THE WINDOW: An Irish Christmas Love Story. The 6–inch, Wi Fi–enabled e–reader, lighter than a paperback, fits in your pocket or purse and holds 1,000 books.

A LIGHT IN THE WINDOW
Order Today
Marceline Murphy is a gentle beauty with a well–founded aversion to rogues. But when two of Boston's most notorious pursue her, she encounters a tug–of–war of the heart she isn't expecting. Sam is from a family of faith and Patrick is not, two rogues whose wild ways clash head–on with Marcy's—both in her faith and in her heart.
While overseeing the parish soup–kitchen fundraiser—a Christmas play entitled A Light in the Window—Marcy not only wrestles with her attraction to both men, but with her concern for their spiritual welfare. The play is based on the Irish custom of placing a candle in the window on Christmas Eve to welcome the Holy Family, and for Marcy, its message becomes deeply personal. Her grandmother cautions her to guard her heart for the type of man who will respond to the "light in the window," the message of Christ in her heart. But when disaster strikes, Marcy discovers the truth of the play's message when it becomes clear that although two men have professed their undying love, only one has truly responded to "the light in the window."
Learn more about Julie and additional contests at www.JulieLessman.com.
Contest ends: November 30, 2012