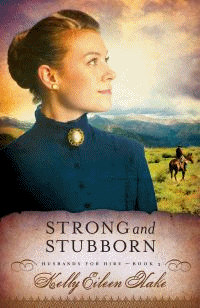 To celebrate the release of her highly anticipated novel, STRONG AND STUBBORN, popular author Kelly Eileen Hake is giving away a fabulous prize package. Enter today to win gorgeous gold and pearl earrings (similar to those worn on the book cover) and an autographed copy of STRONG AND STUBBORN!

STRONG AND STUBBORN
Order Today
Stubborn last choice. . .
When Naomi Higgins and her friends came to Hope Falls, Colorado, turning an abandoned mining town into a thriving sawmill required lots of hope. . .and husbands! With two other women already engaged, Naomi's the only bride left. And she's not about to settle for just anybody. . . .
Meets strong last chance. . .
Carpenter Michael Strode agreed to a marriage of convenience years ago, ending up with an already pregnant wife he didn't love. Now a widower with in-laws desperate to control their only heir, Mike needs to hide his son and start fresh. Hope Falls seems the perfect place.
Will the past keep them from moving forward. . .together?
Mike is ready to claim the life—and bride—of his choice. But when the man Naomi once loved comes to town, alongside the loggers vying for her hand, the competition could derail their newfound partnership.
Will old mistakes and new mysteries confuse new love, or will God's guidance help them forge a future?
Contest ends: November 30, 2012