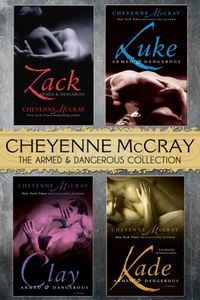 To celebrate the release of the complete Rough & Ready series: the Camerons, Cheyenne is giving away a set of signed print copies of Armed & Dangerous novels! Sexy cowboys ZACK, LUKE, CLAY, and KADE will fill help stuff your beach tote!
The Rough & Ready series featuring the Camerons is in available in e-book now and coming soon in print!
SILK & SPURS
LACE & LASSOS
CHAMPAGNE & CHAPS
SATIN & SADDLES
ROSES & RODEO

ROSES & RODEOOrder Today

When Danica Cameron meets Creed McBride, the last thing she wants to do is get involved with a bull rider. Men who willingly put themselves in that kind of danger aren't for her. It didn't matter that he was mouthwateringly hot and she was more than attracted to him.
Creed wants Danica from the moment he spots her after a bull riding event. She's beautiful, sexy, and intelligent. Her attempts at putting him off only make him want her more.
Danica finds she can't resist Creed's cowboy charm and soon she finds herself falling for him. That is until something so emotionally devastating happens that she knows she can never trust him again.
Visit Chey's website and get all of the latest info and meet up with her at Cheyenne McCray's Place on Facebook!
Contest ends: June 11, 2012