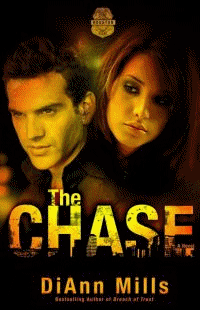 In DiAnn Mills' action–packed novel, The Chase, it's difficult to tell who's tearing down the streets of Houston at a dead run more—TV reporter–turned–suspense–author Kariss Walker or FBI agent Tigo Harris. They're both relentlessly pursuing justice for a little girl who was starved to death.
So DiAnn Mills thought it would be fun to give the winner of her "Pack Your Beach & Vacation Tote" contest a $50 gift certificate to Zappos so she can buy a new pair of running shoes for herself. (Check out their latest in neon colors! DiAnn says if the winner's attention strays to a sexy pair of summer sandals, that's okay, too!) DiAnn will also give the grand prizewinner—and two additional winners—a copy of THE CHASE.

THE CHASE
Order Today
Who could forget an unidentified little girl who was found starved to death in the woods behind a Houston apartment complex five years ago? Certainly not Kariss Walker, a TV news anchor who reported on the story.
Now a New York Times bestselling women's fiction author, Kariss is compelled to turn the unsolved case into a suspense novel, to solve the murder in fiction, if not in real life. Kariss persuades FBI Agent Tigo Harris to re–open the case, and together they solve the crime in a collage of suspense, faith, and romance.
But the search for the dead girl's missing mother yields a discovery that plunges the partners into a witch's brew of danger.
Visit www.DiAnnMills.com to read an excerpt, check out her mobile phone app and like her on Facebook.
Contest ends: June 11, 2012