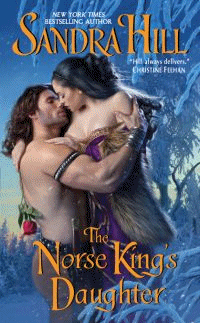 Bestselling author Sandra Hill is launching her new Deadly Angels series this month with KISS OF PRIDE, but these are not the usual angels. They are Viking vampire angels, or vangels, and they live in Transylvania, but not Transylvania, Romania. These studly angels are in Transylvania, Pennsylvania.
Vikar Sigudsson and his six brothers have been sentenced to hundreds and hundreds of years on earth, under the mentorship of St. Michael the Archangel, patron of fighting men everywhere. On earth, they must fight Lucifer's vampire demons, known as Lucipires, but first Vikar must restore a rundown castle built a hundred years ago by a lumber baron. Alexandra Kelly, a snoopy magazine reporter who still grieves for her dead child, soon becomes the biggest of his many obstacles. Sandra's trademark laughter and sizzle guaranteed.

To celebrate this new series, Sandra is offering one prize to three winners 1st place - An Angel Wing Pendant, 2nd place - An Angel Wing Necklace, and 3rd place - a signed copy of THE NORSE KING'S DAUGHTER.

Kiss of Pride
Order Today
SOME MEN ARE TOO BAD TO BE TRUE...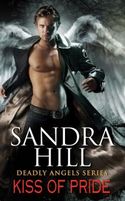 Is he really a Viking with a vampire's bit? An angel with the body of a thunder god? A lone wolf with love on his mind? Alexandra Kelly, his prey, thinks Vikar Sigurdsson is either flat-out crazy or he's trying to maneuver her into his bed—which is hardly where a professional reporter should conduct an interview, tempting as that prospect might be.
SOME MEN ARE TOO GOOD TO BE TRUE...
Until Vikar does something a teensy bit unexpected, and Alex begins to wonder whether her mystery man could really be everything he says he is: a Viking Vampire Angel on a thousand-year-long mission with his pack of sinful brothers— and a man who's finally found the woman of his dreams. By then, Vikar is already wrapping his chiseled arms around Alex's body...and sinking his wicked fangs right into her neck. If this is sin, why does it feel so good?
For more information about her books, visit her website or her Facebook page. And readers are invited to visit THE STORY GARDEN,"where good books make good friends," a Facebook page where twenty some authors, longtime friends and colleagues, have gathered to discuss what they love best...books.
Contest ends: May 31, 2012