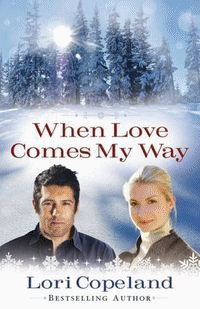 In bestselling author Lori Copeland's WHEN LOVE COMES MY WAY, Tess Wakefield, the spoiled Michigan timber company heiress, loses her memory on the way to sell her family's company. She's forgotten that she's engaged and set to be married in a matter of months. Handsome lumberjack Jake Lannigan uses the situation to his advantage—he convinces Tess she's actually a school teacher and shows her the benefit of replanting the region's pine trees.
In Lori's May contest, one grand prizewinner will surround her sweetheart's photo in a custom–made, stacked glass, pine tree picture frame. The 5"x7" vertical frame features vertically stacked glass creating 5", 4" and 3" tall pine trees. The winner—and two great prizewinners—will also receive a copy of WHEN LOVE COMES MY WAY.
WHEN LOVE COMES MY WAY
Order Today
When Tess Wakefield wakes from a frightening wagon accident, she discovers she has lost her memory. During her recovery, she also loses her heart—to handsome lumberjack and timber camp foreman, Jake Lannigan. It's not a two–way street, though.
Jake thinks he knows who the woman with amnesia is—the spoiled Wakefield Timber heir! He believes the accident provides the means to show Tess that she has a responsibility to replant the trees and not to merely invest her inheritance in the opening of another of her silly millinery shops.
As Tess settles into camp life, Jake finds the first inkling of love growing. He wants to tell her the truth, but before he can, she regains her memory. Will God intervene and show this headstrong couple why he paired them together?
Catch up with one of romance publishing's most cherished authors on www.LoriCopeland.com.
Contest ends: May 31, 2012