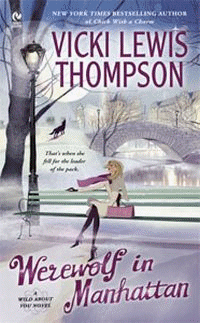 Werewolf in Seattle is in stores this month and to celebrate, I'm giving away personally autographed copies of the first two werewolf stories in the series, A WEREWOLF IN MANHATTAN and WEREWOLF IN THE NORTH WOODS. The sexy Wallace werewolf brothers are only the beginning! --Vicki
Werewolf in Manhattan
Order Today
Emma Gavin writes bestselling novels about werewolves, but that doesn't mean she believes in them -- and she certainly doesn't think she'll meet one. But that's exactly what happens when her books catch the attention of a rich and powerful pack of Manhattan Weres, who have kept their existence hidden for centuries. Alarmed by the accuracy of her novels, they're determined to find out if a renegade is acting as her informant.
Aidan Wallace, the pack leader's son and heir, knows he's the wolf for the job, but when he gets close to Emma, they are both surprised by an attraction too strong to deny. To surrender to it, Aidan will have to risk everything--- including the security of the pack he's sworn to protect...
Werewolf in the North Woods
Order Today
When she used to walk around her grandfather's property outŽside Portland, Abby Winchell loved the idea that Bigfoot was somewhere out there too. Now her grandfather swears he's seen two creatures that fit the legendary description—and he has evidence. Sort of. Grandpa Earl may be a bit dotty, but when his neighbors invite a renowned anthropologist to disprove his theory, Abby decides to send the man packing...until she sees how hot he is.
Anthropology professor Roark Wallace can't risk news beŽing made of a Bigfoot sighting in the north woods—not with a local pack of werewolves to protect. Disproving the evidence should be easy, but ignoring Abby is not. Her fiery red hair makes him want to sit up and beg, and this obvious attraction is making the pack suspicious...
Contest ends: April 30, 2012