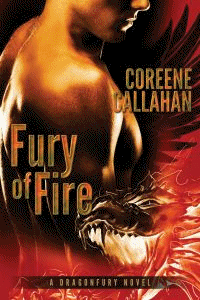 Debut author Coreene Callahan's first Dragonfury novel, FURY OF FIRE (Montlake Romance Trade Paperback, on sale now!), sets the fantasy romance genre ablaze thanks to its unique blend of action and smoking hot dragon-shifters. Early reports from readers and reviewers show they can't get enough of these half hard-bodied men, half high-flying, hard-fighting creatures. Luckily readers won't have to wait long for the second installment in this addictive series. FURY OF ICE, Dragonfury Book #2, goes on sale later this summer.
The fortunate grand prizewinner in Coreene's March contest can show her dragon support by sporting this bronze and gold, Steampunk-style dragon scale bracelet. Best of all, the winner will receive a copy of FURY OF FIRE for her reading pleasure.
FURY OF FIRE
Order Today
When duty calls, a warrior answers—no matter the consequences.
A clandestine race of half-dragon, half-humans known as dragon-shifters lives among us. Bastian, leader of the Nightfury dragon clan, is sworn to protect humankind at all costs. For him, honor and duty always come ?rst. When the clan dictates he take a human mate to sire a son, he falters, aware that for a human to birth a dragon-shifter she must die. Myst, the woman given into his care, is the most extraordinary he's ever met, and though he can't bear the thought of harming her, he is bound by duty.
Myst loves her life in the human world, but Bastian has captured her heart in an instant of electric connection. But Bastian and his warriors are in the middle of a deadly battle with the Razorback dragon-shifters, who are intent on killing every Nightfury clan member—and the humans they protect. The fate of their world and ours hangs in the balance.
To find out more about this exciting new author, visit her website at www.CoreeneCallahan.com, and "Like" her on Facebook for the latest news as dragon- shifters invade Seattle.
Contest ends: March 31, 2012