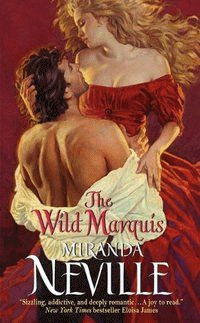 Explore Miranda Neville's Burgundy Club Series while waiting for the final book!
CONFESSIONS FROM AN ARRANGED MARRIAGE, hits bookstores March 27, 2012. Readers have been eagerly awaiting Minerva and Blake's story, a classic marriage of inconvenience tale and the triumphant conclusion to Miranda Neville's Burgundy Club series.
They couldn't be more different, but there's one thing they agree on. Clever, ambitious Minerva Montrose & the handsome sportsman Lord Blakeney are the last couple who should ever marry. But some plans are born to go astray...
If you haven't yet discovered Miranda Neville's books, here's your chance to win the first three volumes of this highly acclaimed series.
* THE WILD MARQUIS. What does the rakish Lord Chase want with widowed bookseller Juliana Merton? More than just the rare tomes in her shop!
* THE DANGEROUS VISCOUUNT. When nerdy Sebastian Iverley want revenge on Diana Fanshawe for making a fool of him, he gets his fellow Burgundy Club members to transform him into the fashionable rake of Diana's dreams.
* THE AMOROUS EDUCATION OF CELIA SEATON. Celia escapes from her kidnappers and the only man who can help her is odious Tarquin Compton, the man who ruined her life.
Miranda writes "I would love to give way a bottle or two of Burgundy wine with my Burgundy series, but that's illegal. Instead I'm offering some Lake Champlain truffles. Nothing goes better with a great romance than chocolate!"
CONFESSIONS FROM AN ARRANGED MARRIAGE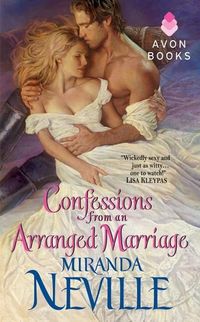 They couldn't be more different, but there's one thing they agree on.
In London after a two-year exile, Lord Blakeney plans to cut a swathe through the bedchambers of the demimonde. Marriage is not on his agenda, especially to an annoying chit like Minerva Montrose, with her superior attitude and a tendency to get into trouble. And certainly the last man Minerva wants is Blake, a careless wastrel without a thought in his handsome head.
The heat and noise of her debutante ball give Minerva a migraine. Surely a moment's rest could do no harm ... until Blake mistakes her for another lady, leaving Minerva's guests to catch them in a very compromising position. To her horror, the scandal will force them to do the unthinkable: marry. Their mutual loathing blazes into unexpected passion but Blake remains distant, desperate to hide a shameful secret. Minerva's never been a woman to take things lying down, and she'll let nothing stop her from winning his trust ... and his heart.
Contest ends: March 31, 2012