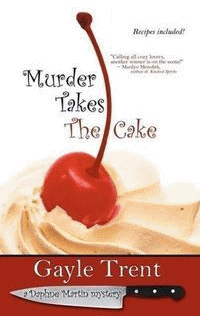 Swing into spring with two cozy mysteries by Amanda Lee/Gayle Trent, and enjoy a Amazon Gift Card to buy something else you've had your eye on to help you ring in the season.
One lucky winner will received a copy of STITCH ME DEADLY by Amanda Lee, copy of MURDER TAKES THE CAKE by Gayle Trent, and a $25 Amazon Gift Card
MURDER TAKES THE CAKE
Order Today
Yodel Watson was dead. And some people blamed my spice cake.
When the meanest gossip in Brea Ridge dies mysteriously, suspicions turn to cake decorator Daphne Martin. But all Daphne did was deliver a spice cake with cream cheese frosting–and find Yodel's body. Now Daphne's got to help solve the murder and clear her good name. Problem is, her Virginia hometown is brimming with people who had good reason to kill Yodel, and Daphne's whole family is among them.
Contest ends: April 11, 2011