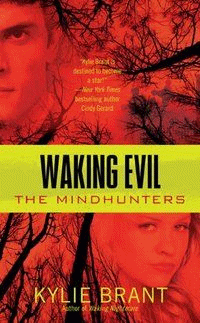 Sign up for a chance to win signed copies of Kylie's September and October releases, WAKING NIGHTMARE and WAKING EVIL. Two winners will be selected!
Buffalo Springs, Tennessee is a neighborly kind of place where folks leave their doors unlocked and crime is unheard of. But once every generation, a strange red mist settles over the town, and with it comes omens of death.
When the body of a young woman is found, forensic investigator Ramsey Clark is called in. She knows about the legend of the mist and the curse that has the entire town afraid of the dark. But Ramsey believes in evidence, not superstition, despite what she's told by Devlin Stryker, the parapyschologist who's been dogging her every step. Then another murder rocks Buffalo Springs, and Ramsey begins to wonder if a killer is playing on everyone's fears or if a prophecy is indeed being fulfilled--one victim at a time.
Contest ends: September 30, 2009