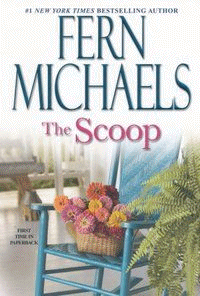 The adorable white wicker basket includes Southern favorites:
• Flavored teas
• Cheese
• Crackers
• Pretzels
• Cookies
• Coffee
• Fruit flavored candy
• A copy of The Scoop

On the heels of her phenomenally successful Sisterhood series, #1 New York Times bestselling author, Fern Michaels introduces a brand new trade paperback series, The Godmothers!
Enter today!
Four unforgettable women are about to get a whole new lease on life...
Teresa "Toots" Loudenberry has crammed a great deal of living—not to mention eight much-loved husbands—into her varied and rewarding life. Newly single, Toots is ready to taste life again, and fate has just handed her the perfect opportunity. Because of his gambling debts, the owner of the gossip rag— where Toots' daughter works—is about to lose the paper. Eager to find a way to keep her daughter employed among the movers-and-shakers of Hollywood, Toots calls on her three trusted friends—Sophie, Mavis, and Ida—to help her pull some strings. Together, they'll hatch a plan that promises thrills, laughter, and more than a hint of danger. Putting aside her widow's weeds (black was never her color), Toots will prove that you should never underestimate a Southern lady of a certain age, and that each day can be a gift, if you're willing to claim it.
"Tirelessly inventive and entertaining."—Booklist
"Pure recession-proof fun!"—Publishers Weekly
Also available in Thorndike Large Print, a Brillance® Audio book, and an e-book! For more information visit: www.kensintonbooks.com/fernmichaels
Contest ends: September 30, 2009