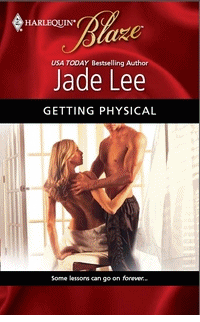 One lucky winner will win a copy of Jade's very first Blaze -- THE TAO OF SEX -- and a $20 Amazon gift card!
And don't miss getting her current Blaze -- in stores in September where ever Blaze novels are sold --
Order Getting Physical Today

Tantric Sex Rules:
#1 - Think about sex!
When savvy business student Zoe crosses paths with sexy international businessman Stephen— a Tantric master—she's about to get a transcendent learning experience!
#2 - Start touching!
The sex is incredible, mind-blowing, life changing! Unfortunately, it also comes with a time limit. Because Stephen's home is on the other side of the world.
#3 - Full sexual contact!
Still, Zoe's going to enjoy every moment with her skillful, exotic lover. But it isn't long before she realizes she'll have to choose. Does she want to hold on to the life she has...or have a lifetime of feeling his body move against hers?
Like there's a choice...
Contest ends: September 30, 2009