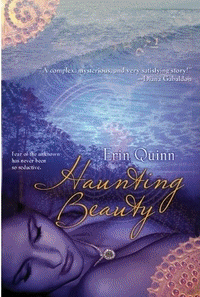 To celebrate the release of Erin Quinn's HAUNTING BEAUTY, win a Readers' Choice of one of her previous titles writing as Erin Grady (WEB OF SMOKE*, WHISPERS, ECHOES) plus a $10 gift card to readers' choice of Amazon, B&N or Borders. *only used copies of WEB OF SMOKE are available
Order HAUNTING BEAUTY Today
Danni always believed she was an abandoned child. Then the seductive Sean Ballogh appears out of nowhere with a startling story challenging everything Danni thought was true. He claims that Danni's family has been searching for her ever since she disappeared twenty years ago. He's come to bring her home to Ireland.
Now, Danni must rewrite history to save her family, to fight a force more evil than she ever imagined, and to reunite herself with the man she was destined for—or risk living forever in time as nothing more than an ethereal memory, a tragic and haunting beauty.
Contest ends: September 30, 2009