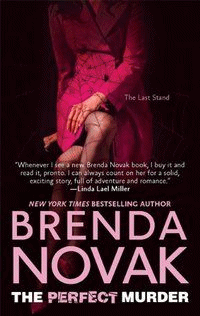 If you love to read, then this contest is for you!! Enter this contest and sign up for Brenda Novak's newsletter through September 30th, and you'll be entered to win a $100 gift certificate to Borders Books, to be used online or in store. Brenda's newsletter is jam packed with the latest news involving her latest books and with great opportunities for her subscribers and fan club members (visit her website for details on how to join Brenda's fan club).
Order THE PERFECT MURDER Today

Someone thinks he's committed The Perfect Murder...
In trying to unravel the truth behind the murder of his ex- wife and son, Sebastian Costas has followed a ghost of a lead all the way to Sacramento. The evidence suggests a murder-suicide, but something he heard the week before the killings won't allow him to accept that. He believes her second husband--a cop--killed her and the boy, then faked his own death. But proving it isn't easy. He finally gets the break he needs when Jane Burke, an investigator with The Last Stand, calls him in connection with a separate crime--a crime that could lead him straight to the man he's been looking for.
But that murder might only lead to more...
Once the wife of a serial killer, Jane has spent the past five years rebuilding her life and fighting against violence. The last thing she wants to do is fall in love again. But once she meets Sebastian, she's determined to take that risk. She finally has a chance at happiness--if she can best the man they're trying to stop before that man stops them.
Contest ends: September 30, 2009