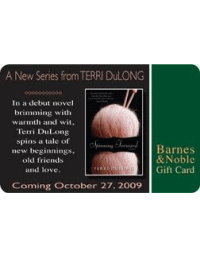 Author Terri DuLong spins a warm and hopeful yarn in her debut novel, SPINNING FORWARD (Kensington trade paperback, November 2009). The joy of knitting and mother-daughter relationships are just two of the themes the grand prizewinner in Terri's September contest can anticipate exploring through an advance reading copy of SPINNING FORWARD. As a bonus, Terri has also included a $25 Barnes & Noble gift card as part of the grand prize.
Pre-Order SPINNING FORWARD Today

A New Englander born and bred, the last place Sydney Webster expects to find herself starting over is on an island off the coast of Florida. Yet here she is in Cedar Key, trying to pull herself together after her husband's untimely death—and the even more untimely revelation of his gambling addiction. Bereft of her comfortable suburban life, Syd takes shelter at a college pal's bed and breakfast, where amidst the bougainvillea blossoms and the island's gentle rhythms, a plan begins to form . . .
Syd never considered the possibility of turning her passion for spinning and knitting into something more than a hobby, but when the unique composition of her wool draws attention, a door is opened—the first among many. Yet even as she ventures out of her comfort zone, Syd finds herself stepping into the embrace of a community rich with love, laughter, friendship . . . and secrets. And as long-hidden truths are revealed, Syd faces a choice: Spin a safety net—or spin decidedly forward and never look back.
"Poignant, absorbing, humorous . . . a debut that tugs at the heart." —Sophia Nash, author of A Dangerous Beauty
"A southern Debbie Macomber, but with a flair all her own. I never wanted to leave Cedar Key." —Karin Gillespie, author of the Bottom Dollar Girl series
Visit www.TerriDuLong.com to sign up for Terri's newsletter or to find the latest news about her books and appearances.
Contest ends: September 30, 2009