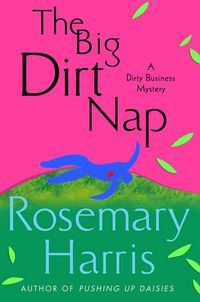 What's buried in The Big Dirt Nap?
Well, in addition to what Publishers Weekly called "..a nifty puzzle featuring Native American casinos, mysterious Russians and a stinky slow-blooming flower" buried in the pages of The Big Dirt Nap are the names of some of the mysteries that I either read or bought while I was writing the book. This was a little homage to some of the people I met on my first book tour and some of the books that inspired me.

There are dozens of them and whoever finds the most titles will win a registration for one of these upcoming 2009 conferences - Malice Domestic, Guest of Honor, Nancy Pickard, Bouchercon, Guest of Honor Michael Connelly or New England Crimebake, Guest of Honor Sue Grafton.
These are the rules
-Contest starts on www.freshfiction.com on January 12, 2009
-Titles must be on the list that I have provided to Fresh Fiction
-Your entry may have additional titles on it, but the winner will have found all or more of my titles than anyone else finds.
-You must include the author's name (I obviously did not.)
-Contest ends on April 30, 2009. In the event of a tie, earliest postmark (email date) will win.
-Prize does not include transportation or hotel.
Good luck!
Contest ends: April 30, 2009