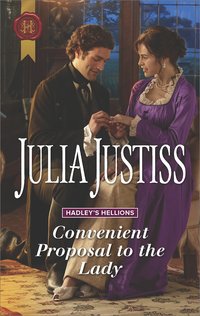 In celebration of the release of the third of the Hadley's Hellions series, Julia Justiss is offering one reader a collection of all three stories, Giles Hadley's FORBIDDEN NIGHTS WITH THE VISCOUNT, David Tanner Smith's STOLEN ENCOUNTERS WITH THE DUCHESS and the latest, Ben Tawny's CONVENIENT PROPOSAL TO THE LADY. Pull up a lawn chair and read away as the weather warms up. Enter now below.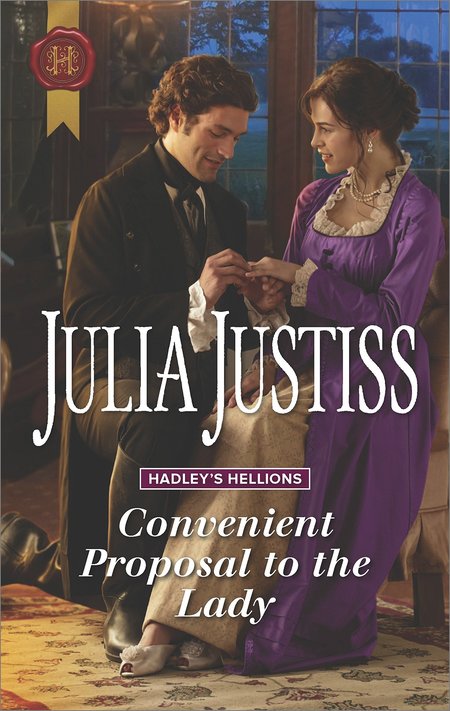 "Duty can also be pleasure, Lady Alyssa…"
When politician Benedict Tawny set out to save Lady Alyssa from a nefarious plot, he never expected to find himself trapped in a compromising situation with the alluring lady! Now duty demands he propose…and claim her as his bride!
Tainted by his illegitimacy, Ben knows he can't give Alyssa the life of luxury she deserves. But if he can convince her to succumb to the undeniable heat between them, their convenient marriage might just lead to the love of a lifetime!
Romance Historical [Harlequin Historical Romance, On Sale: February 21, 2017, Paperback / e-Book, ISBN: 9780373299218 / eISBN: 9781488021190]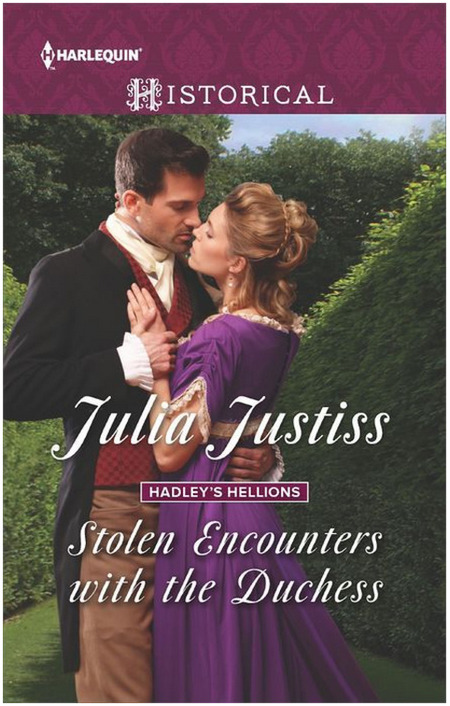 She would rather burn in his presence than pine in his absence
Faith Wellingford Evers, Duchess of Ashedon, is tired of society's endless gossiping about her failings and her late husband's infidelities. Seeking escape one night, she's attacked by ruffians, but is saved by an unlikely figure from her past!
Having risen from penniless orphan to Member of Parliament, David Tanner Smith is no longer the quiet boy Faith once knew. With the first spine-tingling kiss, their old friendship is transformed. And in its place is an explosive mix of illicit encounters and forbidden desire…
Romance Historical [Harlequin Historical Romance, On Sale: August 23, 2016, Paperback / e-Book, ISBN: 9780373298969 / eISBN: 9781488004339]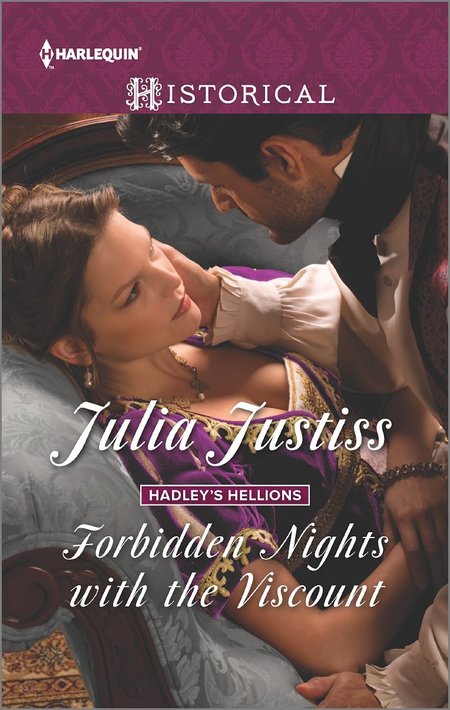 Leader of Hadley's Hellions, a group of outsiders who bond together at Oxford vowing to reform Society, Giles Hadley wants nothing to do with the earl, his father who banished him, or his stepbrother George, who is the bane of his existence. But he's curious about the woman rumor says George is to marry, daughter and political hostess of prominent Tory Lord Witlow.
For her part, Lady Maggie finds angry rebel Giles far more fascinating than George—so fascinating, that though she has no intention of risking her heart after losing her beloved husband, she might just be tempted into an affair…
Romance Historical [Harlequin Historical Romance, On Sale: April 1, 2016, Paperback / e-Book, ISBN: 9780373298761 / eISBN: 9781488004032]

A fascinating Regency romance with an edge

Contest ends: March 31, 2017