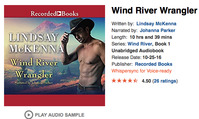 Romance author, Lindsay McKenna, offers one lucky reader a chance to win an audio copy of her WIND RIVER WRANGLER, the first book in her Wind River Series. The audio book has nine CD disks for 10.5 hours of listening pleasure. It is narrated by the award- winning Johanna Parker. Lindsay is celebrating the July release of TRAPPED, her latest military romance. To enter, please answer the question below. Entries without an answer will be disqualified.
Delos Series #7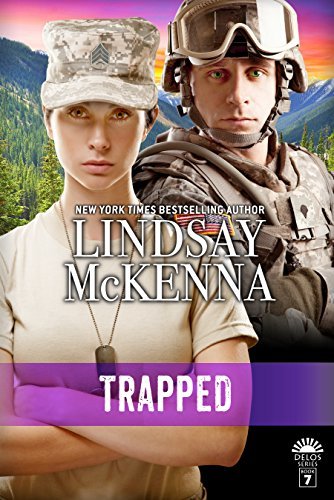 Could two enemies overcome their distrust of one another in order to rescue innocent Afghan children who were kidnapped by terrorists?
Aliyana Montero will do anything to rescue her sister from the ruthless kidnappers who took her from outside the school where she works. Even if that means accepting help from Ram Torres, the most infuriating—and sexy—man Ali has ever met. She and Ram first met on a mission in Afghanistan and they clashed instantly. Ram accused her of being hotheaded and impulsive. She thought he was cold and arrogant. Both refused to acknowledge the heat that flared between them. Now, as her sister's life hangs in the balance, Ali will have to swallow her pride and once again work with the man who has secretly haunted her dreams.
Romance Military Blue Turtle Publishing, On Sale: July 7, 2017, e-Book
Still waters run deep . . .
From the moment Roan Taggart picked up the pretty redhead at the Jackson Hole airport, his training and experience told him she was spooked. She's left New York City to visit the Wind River Ranch, where Roan is a wrangler, and just as he can pick up a horse's mood, he can feel the tension coming off her body. And that vulnerability is triggering all his protective instincts...
Shiloh Gallagher likes the gray-eyed cowboy's dry humor— and the Special Forces background that lends him a stoic, powerful presence. But she's been scarred by trauma and her mother's murder . . . and knows a strong man can be dangerous. She came to wide-open Wyoming to flee a threat that's left her unable to write her novels. Now, as she rides horses with Roan and helps him build an isolated cabin, she's slowly letting down her guard. But danger has followed her west, and they won't have a future together unless they defeat a killer from her past…
Western | Romance Contemporary Zebra, On Sale: October 25, 2016, Paperback / e-Book, ISBN: 9781420141740 / eISBN: 9781420141757

Exciting new series from best-selling author, Lindsay McKenna!


Welcome to a terrific new series.

Contest ends: July 31, 2017