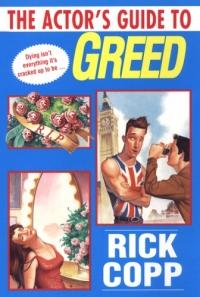 Purchase
The Actor's Guide to Greed
Rick Copp
Kensington
September 2006
288 pages
ISBN: 0758209614
Trade Size (reprint)
$14.00
Add to Wish List

Dying isn't everything it's cracked up to be. Getting butchered at the hands of a serial killer in the "high concept" slasher film, Creeps, was supposed to revive former child star Jarrod Jarvis's career. Instead, it's a celluloid Titanic that makes Patty Duke's turn in Valley of the Dolls look like Swedish art house restraint. While nursing his wounds at the post-premiere party at a Starbucks on Beverly Boulevard, Jarrod runs into Wallace Goodwin, one of the former writers on Go to Your Room, the beloved eighties show that made Jarrod a star. He's shocked to discover that the neurotic, egotistical Wallace, whose biggest claim to fame was penning a very special episode of a Marla Gibbs sitcom and marrying leggy sexpot Katrina, has penned a play bound for London's West End, with a scene-stealing part for Jarrod. Like they say, when God closes a door, somewhere, he opens a window seat in coach.
Faster than he can say his catchphrase, "Baby, don't even go there!" Jarrod's hitting the boards in London…and the boards are hitting back, big time. As much as the actors all seem to loathe one another, they truly resent Jarrod. The hotshot young director with a thing for girls named Kate berates him at every turn. British legend Dame Sylvia Horner is so sloshed she can barely read her lines. Bollywood beefcake Akshay Kapoor's one facial expression seems to be handsome glowering—when he isn't making eyes at Jarrod's hunky LAPD boyfriend, Charlie. And since coming out has made him hot again, Sir Anthony Stiles wastes no time "tutoring" every young actor in a twelve- mile radius. Jarrod's only friend in the cast is the formidable Claire Richards. The sexy, forty-something, champagne-swilling, Oscar-winning actress is the undisputed star of the show—a lady who can chew scenery and her costars with equal abandon. No one can play a death scene like La Claire. Except that this time, the diva isn't faking it. She's been poisoned, and the last person to see her alive was Jarrod himself. Suddenly, Jarrod's gone from begging for a small role as a lab assistant on Crossing Jordan to being accused of murdering a shining star of the West End theatre scene and stealing her Oscar from her dressing room.
It's the juiciest scandal to hit London since Prince Harry got caught smoking pot, and Jarrod has no intention of clicking his heels three times while repeating, "There's no such thing as bad publicity." He's going to find out who murdered Claire, clear his own name, and head back to the insanity he knows and trusts in Los Angeles. What becomes clear is that there was more backstage drama going on than anything happening on stage—affairs, lies, secrets, betrayals, blackmail, and a desperate clawing for fame and fortune that makes anything on reality TV look like a kids' show.
Comments
No comments posted.

Registered users may leave comments.
Log in or register now!