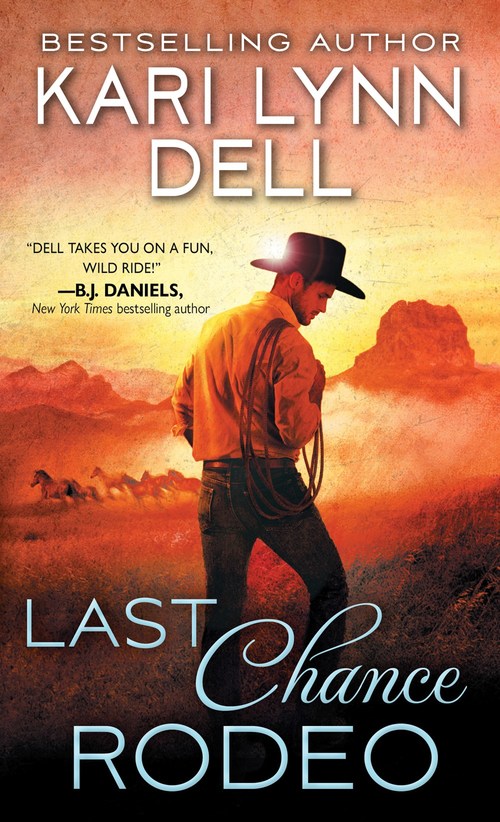 Purchase
Blackfeet Nation
Sourcebooks Casablanca
August 2019
On Sale: July 30, 2019
320 pages
ISBN: 1492695246
EAN: 9781492695240
Kindle: B07MZHZRJJ
Mass Market Paperback / e-Book
Add to Wish List

"Dell takes you on a fun, wild ride!" —B.J. DANIELS, New York Times Bestselling Author
He came to Blackfeet Nation looking for his missing horse
And found the heart he'd lost along the way.

One thoughtless moment cost David Parsons everything—his irreplaceable horse, his rodeo career, and his fiancée. After four long years he's finally tracked his horse to the Blackfeet Reservation and is ready to reclaim his pride.
It should be the happiest day of his life. But the troubled young boy who's riding Muddy now has had more than his fair share of hard knocks, and his fierce guardian Mary Steele will do whatever it takes to make sure losing this horse isn't the blow that levels him. David finds himself drawn to both woman and child, and is faced with a soul-wrenching dilemma: take his lost shot at rodeo glory...or claim what could be his last chance to make his shattered heart whole?
Author Kari Lynn Dell is a Blackfeet descendant who lives with her family on the reservation and brings a lifetime of rodeo experience to this touching family drama.
Comments
20 comments posted.
A work of perfection with the perfect cowboy life
drama.
(Tixsh Malhotra 2:58am July 30)
I love all your books
(Denise Schenk 2:41pm July 30)
would love to read this
(Vickie Couturier 3:07pm July 30)
What a wonderful post. We came through your territory just a few
weeks ago. We were on the homeward swing of a 2 1/2 month trip
to Alaska. We came through Browning the Friday the Rodeo started.
I wanted to stop, but was outvoted. We haven't been to a rodeo in
years. I looked up pow wows later and discovered there was one in
conjunction with the rodeo. I am so disappointed we missed both
and the town's museum. I am not sure when I will be able to travel
that way again, but that would be the perfect weekend. We were
introduced to rodeos and western life when we lived in Colorado
Springs over 30 years ago. For this Yankee it was a wonderful new
world to explore. Last Chance Rodeo sounds like an excellent read.
I always look forward to traveling back out West, even if it is in the
pages of a book. I hope the release is a big success.
(Patricia Barraclough 6:35pm July 30)
This sounds heart wrenching on a few levels!
(Sharlene Wegner 9:54pm July 30)
Love the cover!
(Katrina Dehart 12:03pm July 31)
Congrats on your new release! I enjoyed this personal post on cowboy
life.
(Jana B 1:26am July 31)
This looks like a wonderful read.
(Cynthia St. Germain 4:36pm July 31)
I love ur technical details!
(Lilah Chavez 3:37am August 1)
Love a cowboy!!!! This book sounds great. Can't
wait to read this one.
(Lynne Brigman 1:33pm August 1)
Love cowboy books! The book sounds great!
(Tamara Kasyan 4:50pm August 1)
Love Cowboy books and would love to read Thank you for the chance!
(Sarah Taylor 5:58pm August 1)
Happy 1st of August.
(Emily Stemp 9:10pm August 1)
Love cowboy stories! This made me think back on all the
times I went to the rodeo when I was a kid. :)
(Tina Rucci 3:34pm August 2)
This is a book I would like to read. I enjoyed the information you gave about your life and feel like you added many details in the book that were taken from real life. Thank you for the giveaway.
(Anna Speed 9:39pm August 2)
Looks like a fun cowboy romance!
(Kathryn Plitt 1:50pm August 3)
Love cowboy westerns
(Shannon Capelle 8:13pm August 3)
I just love your books. Nothing like a cowboy.
(Denise Schenk 5:45am August 4)
Love those cowboys. I can't wait to read.
(Lori Byrd 7:32pm August 7)
Re: Texas Rodeo Book 7 about Gil Sanchez will be released....When?
Have been waiting since early summer. Please tell me it's coming soon.
This is wonderful series and don't want it to end!
(Gail Bland 1:41pm October 22)
Registered users may leave comments.
Log in or register now!