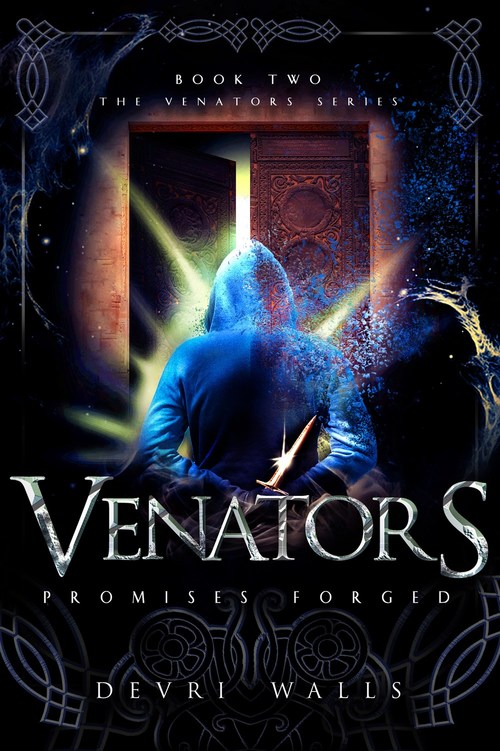 Purchase
Venators: Promises Forged
Devri Walls
Brown Books Publishing Group
May 2019
On Sale: April 30, 2019
428 pages
ISBN: 1612543006
EAN: 9781612543000
Paperback
Add to Wish List

Rune, Ryker, and Grey are still trapped in the world of Eon, where danger continues to unfold at every turn. Grey has now fallen into the Fae queen's clutches, his soul slowly being drained away. With Ryker still held captive by Zio and her goblins, it's up to Rune to save Grey - but will she be able to harness her Venator powers to do so in time?
It has been mere days in the world of Eon, where Rune Jenkins, her twin brother Ryker, and their friend Grey have been trapped, fighting for their lives. After discovering the truth of their ancestry, the three are far from home, and far from anything resembling their mundane lives of the past. While Ryker is still held captive by the eerily beautiful Zio and her goblins, Grey fall into the clutches of Feena, the Fae queen. She begins to drain his soul bit by bit to feed her dark underground garden, and Grey has no hope of escaping on his own. It is now up to Rune to save Grey, as his precious time slips away inexorably. But the Council has denied her permission to embark on a rescue mission, until she can harness her Venator gifts and prove herself capable of venturing into the Fae queen's territory. As Rune discovers that promises in Eon are forged with life-or-death consequences, she realizes that she must act quickly, or else be swallowed - and Grey along with her - by the dangers of Eon.
Comments
No comments posted.

Registered users may leave comments.
Log in or register now!