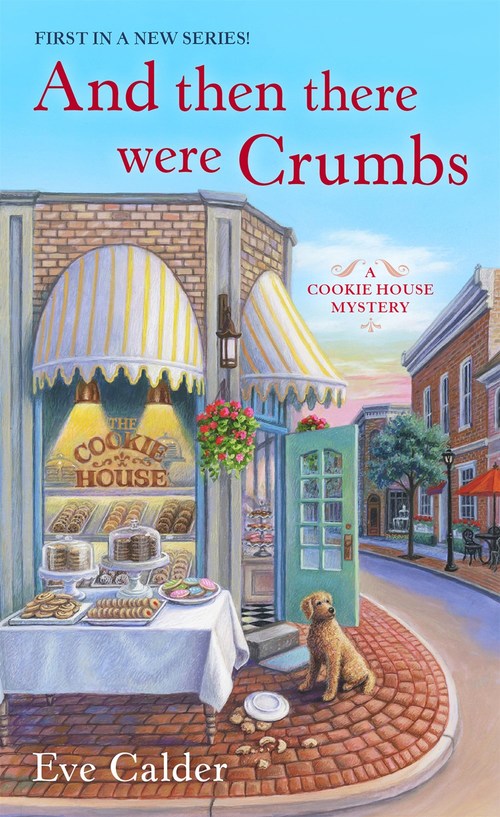 Purchase
And Then There Were Crumbs
Eve Calder
Cookie House #1
St. Martin's Paperbacks
August 2019
On Sale: July 30, 2019
320 pages
ISBN: 125031299X
EAN: 9781250312990
Kindle: B07J51P9RS
Mass Market Paperback / e-Book
Add to Wish List

The first novel in a delightful cozy mystery series set in a cookie shop!

After catching her boyfriend with his hand in the cookie jar, pastry chef Kate McGuire hightailed it to Coral Cay, Florida--the perfect remedy to a broken heart.

When she comes across cranky owner Sam Hepplewhite's bakery—sorely lacking in the cookie department—Kate knows she can use her talents of guessing—and baking—customers' favorite treats. Everything's looking up--until the body of greedy land developer Stewart Lord is found dead after eating the Cookie House treats.

Lord had dollar signs in his eyes when he set his sights on tearing down the Cookie House for a condo development. With Stewart dead, all signs point to Sam as the culprit—and now, it's up to Kate, the beloved town stray dog Oliver, and the residents of Coral Cay to find the real killer.
Comments
3 comments posted.
Re: And Then There Were Crumbs

And Then There Were Crumbs by Eve Calder is the first
novel in A Cookie House Mystery series. I like the
authors casual writing style which made the book easy to
read. Kate McGuire has a bad day when the restaurant where
she works goes out of business, her apartment building is
sold and going condo, and she broke off her engagement to
a cheating louse. Kate relocates to Coral Cay and gets a
non-baking position at The Cookie House. When her new
boss is accused of murder, Kate works to prove his
innocence. I like that Kate is a strong, independent
character. Her new best friend, Maxi Mas-Buchanan is a
delight along with her large family. She is a florist who
works magic with blooms. There is a cast of secondary
characters that enliven the story and help in solving the
case. Oliver is a large, friendly puppy that belongs to
the town. The mystery was clever. It was a unique
whodunit which I just loved. It can be solved before the
reveal thanks to the clues sprinkled throughout the story.
I like how Maxi and Kate work together and get help from
the other townspeople. I hope the author keeps providing
unique mysteries in future installments of A Cookie House
Mystery series. I did feel, though, that the book was too
long (352 pages). Fifty pages could have easily been
edited which would have enhanced the book (tightened it
up) and improved the sluggish pace in the middle of And
Then There Were Crumbs. Overall, I thoroughly enjoyed
this delightful new cozy mystery. There were humorous
situations, tasty cookies, tempting sourdough bread (yum)
and jovial moments. I was tickled pink that there was not
a hint of a romance for Kate. One of my favorite lines
from the book is "I can't believe I have my very own
kitchen elf. Look out Harry Potter." And Then There Were
Crumbs is a tempting cozy mystery with appetizing
pastries, a cozy southern Florida town, Francine the
sourdough starter,
(Kristina Anderson 12:30pm July 27)
I love the review to this, Sounds like a very good book. Thank you

Penney
(Penney Wilfort 12:27pm August 5)
Great
(Leo Edwards 7:50am August 7)
Registered users may leave comments.
Log in or register now!