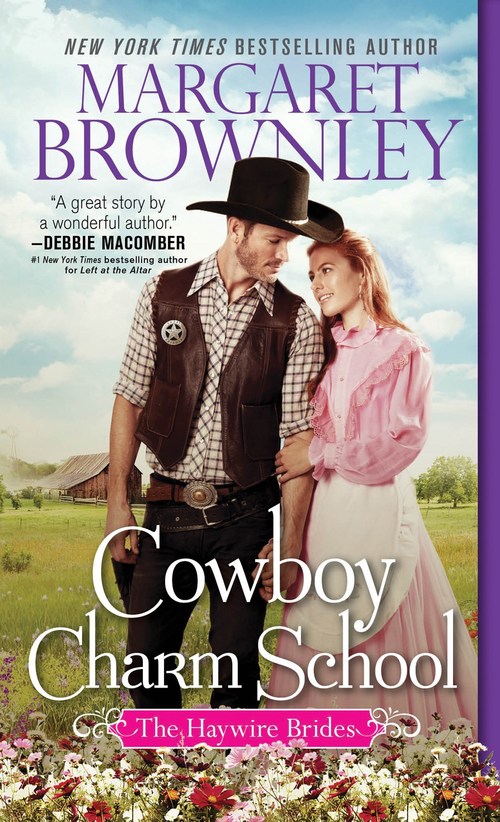 Purchase
Haywire Brides #1
Sourcebooks Casablanca
September 2018
On Sale: September 4, 2018
384 pages
ISBN: 1492658340
EAN: 9781492658344
Kindle: B07CPB154F
Mass Market Paperback / e-Book
Add to Wish List

Romance Western | Romance Historical
When Texas Ranger Brett Tucker accidentally derails a wedding,
he's determined to bring the estranged couple back together...
but he never dreamed he'd start falling for the bride!
Texas Ranger Brett Tucker hates to break up a wedding, but the groom—notorious criminal Frank Foster—is a danger to any woman. So he busts into the church, guns blazing...only to find he has the wrong man.
STOP THAT WEDDING!
Bride-to-be Kate Denver is appalled by her fiancé's over-the-top reaction to the innocent mistake and calls off the wedding—for good. Guilt-ridden, Brett's desperate to get them back on track. But the more time he spends with Kate, the harder he falls...and the more he yearns to prove that he's her true match in every way.
Haywire Brides
Comments
13 comments posted.
One of the best pieces of advice I ever received was from my
grandmother. She said, "Never go to bed mad, especially if
you're mad at a loved one."
(Tina Rucci 5:02pm September 5, 2018)
I was once told to let something go and the consequences were not good.
(Debra Guyette 8:19pm September 5, 2018)
When I was looking at colleges and trying to decide what to study, I was
considering archeology. (It wasn't really an option for financial reasons, but I
was interested.) My dad told me it was a stupid choice because everything had
already been found. I look at all that has been discovered since 1964 (my that
was long ago) and do wish I had been involved in some of it. There is still so
much more out there.
(Patricia Barraclough 12:07pm September 6, 2018)
get out of debt
(Ann Unger 9:21pm September 7, 2018)
My best advice came from my parents. Go to college. I had originally wanted to do something differently. Thank goodness I listened to them.
(Anna Speed 3:26am September 8, 2018)
Be yourself
(Colleen Conklin 12:56pm September 8, 2018)
Every time I come up with something I can do or be I have
someone who likes to point out the reasons not to.
(Candy Voisine 11:36pm September 8, 2018)
Interesting a/out marshmallows...I learned something today
(Jackie Wisherd 12:15pm September 9, 2018)
Best advice - wait 24 hours when angry before
making a decision. Things will look different
(Jane Squires 7:27am September 9, 2018)
Always keep your word. Always.
(Mary Songer 4:52pm September 9, 2018)
The best advice I received from my mom is to let something
go and if it is truly yours or meant to be it will come back
to you.
(Traci Watts 8:40pm September 9, 2018)
I really don't know!!
(Martha Lawson 9:54pm September 9, 2018)
that is great
(Samantha Cruz 7:22am February 29)
Registered users may leave comments.
Log in or register now!