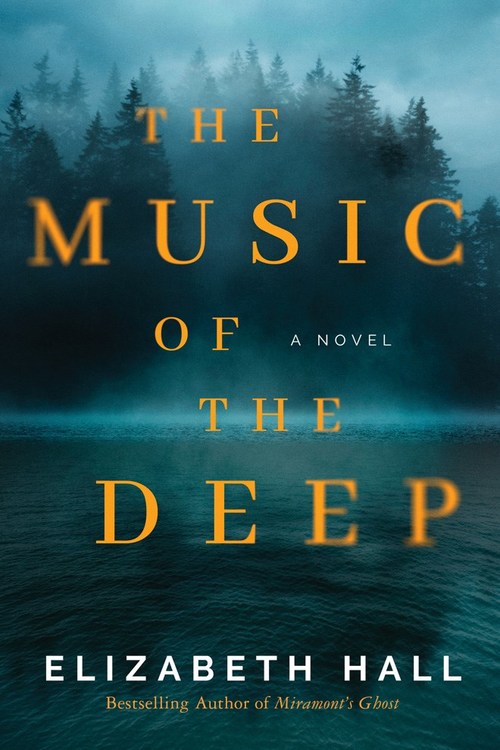 Purchase
Lake Union Publishing
April 2018
On Sale: April 17, 2018
Featuring: Alexandra Turner
288 pages
ISBN: 1503954684
EAN: 9781503954687
Kindle: B075SY87LK
Trade Size / e-Book
Add to Wish List

Suspense | Thriller Paranormal - Supernatural | Romance Suspense
Fleeing an abusive marriage and tormented by her past, Alexandra Turner finds solace in a small coastal town on Puget Sound and a job with a local marine biologist studying orcas.
After befriending a group of locals, Alex learns that she has moved to a place that has a reputation of being the "most haunted town in Washington." Such superstitions would be easy to dismiss…if Alex wasn't already on edge.
Haunted by shreds of memories of her days with her husband, Alex can't keep from looking over her shoulder. As unexplained sounds and scents accumulate and unnerving forces seem to take hold, Alex is beginning to believe that she's not escaping her ghosts, after all. In fact, she might finally be inviting them in.
Comments
23 comments posted.
Thanks for a awesome share. Your article has proved your difficult work and experience you have were given on this area. Terrific .i really like it analyzing. https://zartash.pk
(Jack Statham 12:59pm June 27)
Simply respecting your work and thinking about how you dealt with this site so well. It's remarkable to the point that I can't bear to not experience this significant data at whatever point I surf the web! best nascent iodine
(Jack Statham 8:32am July 15)
Im no expert, but i believe you just made an excellent point. You certainly fully understand what youre speaking about, and i can truly get behind that. https://www.theonlinepoint.com
(Jack Statham 8:11am July 23)
And this place in Florida - not to belittle its earlier 'favorite sons' of Ernest Hemingway, Tennesee Williams and President Harry Truman - will be forever grateful miami to key west
(Jack Statham 6:39am July 26)
Simply respecting your work and thinking about how you dealt with this site so well. It's remarkable to the point that I can't bear to not experience this significant data at whatever point I surf the web! busty escorts in london
(Jack Statham 5:50am August 4)
Some people put a photo of themselves so people will recall them; the more creative you are on your contact card printing the higher opportunities that your potential colleagues as well as future business associates will remember you www.allbusinesscardprinting.com
(Jack Statham 12:29pm August 4)
pleasant post, stay aware of this intriguing work. It truly regards realize that this point is being secured additionally on this site so cheers for setting aside time to talk about this! débouchage canalisations
(Jack Statham 11:13am August 6)
Hey what a brilliant post I have come across and believe me I have been searching out for this similar kind of post for past a week and hardly came across this. Thank you very much and will look for more postings from you. buy instagram likes
(Jack Statham 6:58am August 8)
This article gives the light in which we can watch the truth. This is exceptionally decent one and gives indepth data. A debt of gratitude is in order for this decent article. como ganhar seguidores no instagram
(Jack Statham 4:56am August 16)
Very thrilling weblog. Alot of blogs i see nowadays don't honestly provide whatever that i am inquisitive about, but i am most definately interested in this one. Just idea that i might put up and permit you to know. Movers Calgary
(Jack Statham 6:54am September 1)
I admire this article for the well-researched content and excellent wording. I got so involved in this material that i couldn't stop reading. I am impressed with your work and skill. Thank you so much. voyance gratuite amour
(Jack Statham 6:17am September 3)
i read a considerable measure of stuff and i found that the method for composing to clearifing that precisely need to say was great so i am awed and ilike to come back again in future.. asian antique
(Jack Statham 9:32am September 4)
It was a very good post indeed. I thoroughly enjoyed reading it in my lunch time. Will surely come and visit this blog more often. Thanks for sharing. albanian songs
(Jack Statham 11:38am September 4)
It was a decent post in reality. I altogether delighted in understanding it in my lunch time. Will without a doubt come and visit this blog all the more frequently. A debt of gratitude is in order for sharing. circle bags
(Jack Statham 6:33am September 10)
This is such an awesome asset, to the point that you are giving and you give it away for nothing. I adore seeing sites that comprehend the benefit of giving a quality asset to free. It is the old what circumvents comes around schedule. sell my car
(Jack Statham 11:15am September 10)
Much obliged for the decent blog. It was exceptionally helpful for me. I'm upbeat I discovered this web journal. Much obliged to you for imparting to us,I too dependably gain some new useful knowledge from your post. robot vacuum cleaner parts
(Jack Statham 11:15am September 10)
Your article has piqued a lot of positive interest. I can see why since you have done such a good job of making it interesting. laser hair removal dubai
(Jack Statham 8:32am September 26)
I am happy to find this post Very useful for me, as it contains lot of information. I Always prefer to read The Quality and glad I found this thing in you post. Thanks Joom Group
(Jack Statham 8:09am September 30)
Exceptionally helpful post. This is my first time i visit here. I discovered such a variety of fascinating stuff in your web journal particularly its exchange. Truly its extraordinary article. Keep it up. Royal Online
(Jack Statham 6:42am October 6)
However, in a digital world where people are inundated with massive amounts of content, direct mail stands out as a creative way to cut through the noise. fast luxury EDDM® box
(Jack Statham 8:14am October 12)
I have bookmarked your blog, the articles are way better than other similar blogs.. Thanks for a great blog! https://drwritings.com
(Jack Statham 6:42am October 23)
Os doy las gracias por la información! Yo estaba buscando y no podía encontrar.
Usted me ayudó!
192.168.o.1
(Sophie Miller 12:26pm Friday)
I am glad to be one of the visitants on this great website (:, thanks for putting up. trademark registration in Nigeria
(Jack Statham 7:36am Sunday)
Registered users may leave comments.
Log in or register now!