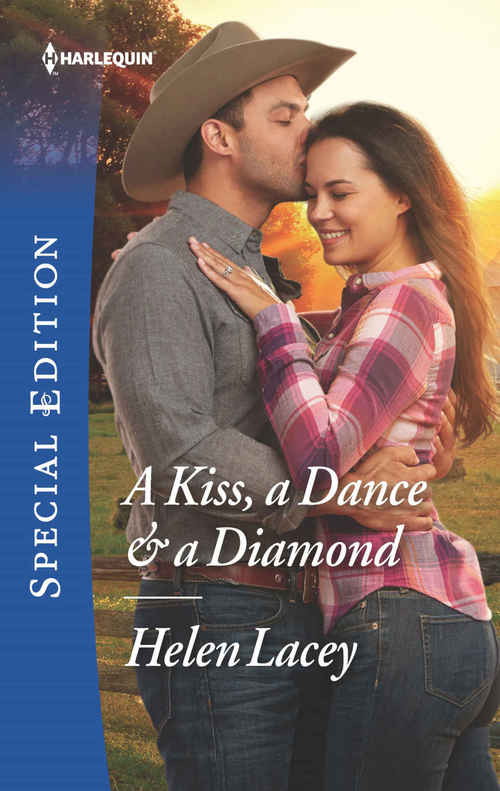 Purchase
A Kiss, a Dance & a Diamond
Helen Lacey
The Cedar River Cowboys #6
Harlequin Special Edition
April 2018
On Sale: April 1, 2018
Featuring: Nicola Radici; Kieran O'Sullivan
86 pages
ISBN: 1335465693
EAN: 9781335465696
Kindle: B0769SV7V5
Mass Market Paperback / e-Book
Add to Wish List

Kieran O'Sullivan never let anything—or anyone—stand in his way.

Even the girl he claimed to love.

But fifteen years later, the successful doctor's back in Cedar River. So is Nicola Radici, still as beautiful as the day he left her behind. The last thing Nicola wants is to forgive and forget. But when Kieran connects with her nephews, their guardian has to let him into their life. And maybe even her heart.
Cedar River Cowboys
Comments
25 comments posted.
Re: A Kiss, a Dance & a Diamond

I enjoy such a variety of heroes... love seeing their character and personalities come to life within their stories!
(Colleen Conklin 12:43pm April 3)
Cowboys
(Emily Stemp 3:11pm April 3)
Nothing wrong with a mixture. A cowboy can be a CEO so long as he is strong but gentle, and smart enough to know when to stand by his girl and not in front of her, he will be a winner.
(Annetta Sweetko 9:05pm April 3)
CEO and part time cowboy rocks
(Susan Gannon 4:00pm April 4)
cops, and firemen
(Emily Stemp 7:32pm April 4)
A cowboy is a man with strength of character, principles and
can be a brilliant CEO as well.
(Sharon Berger 10:04am April 5)
royal family
(Emily Stemp 3:43pm April 5)
I like the strong and gentle hero.
Marilyn
(Marilyn Collins 7:37pm April 6)
Cowboys have always been my heroes
(Joy Isley 4:49pm April 7)
A cowboy CEO -- what an interesting combo!
(Sandy Haber 7:06pm April 7)
Love the cowboy stories.
(Melanie Rosen 3:20am April 8)
Hi Colleen - variety is good! Thanks for commenting :)
(Helen Lacey 4:25am April 8)
Hi Emily - yes, a hero needs all those attributes to be truly heroic. Thanks so much
for stopping by :)
(Helen Lacey 4:26am April 8)
Hi Annetta - you're so right...strong and gentle, exactly how I like them too :)
Thanks for commenting today :)
(Helen Lacey 4:27am April 8)
Hi Sharon - yes, every time I fall in love with a cowboy hero he always has integrity
and strength of character :) Thanks!
(Helen Lacey 4:28am April 8)
Hi Susan - yep , cowboys and CEO's...or maybe a combo! Thanks so much for
stopping by :)
(Helen Lacey 4:29am April 8)
Hi Marilyn - I like strong and gentle too...I think that's why Captain Wentworth from
Austen's Persuasion is one of my favorite all time hero...he's has both this
attributes in abundance :) Thanks for commenting H
(Helen Lacey 4:31am April 8)
Hi Joy - I do love a cowboy. Thank you for stopping by today! :)
(Helen Lacey 4:32am April 8)
Hi Sandy - I think I need to write a cowboy CEO now! :)
(Helen Lacey 4:33am April 8)
Hi Melanie - always delighted to meet another cowboy fan :) Thanks for stopping
by.
(Helen Lacey 4:35am April 8)
A cowboy hero
(Gloria Zimmer 5:21am April 8)
A variety cowboy, military, firefighter or cop someone that is strong and not afraid to show emotions.
(Margaret Yelton 11:40am April 8)
Cowboys always are appealing to me.
(Anna Speed 11:57am April 8)
Sexy Cowboys
(Emily Stemp 3:27pm April 8)
The occupation doesn't matter. I like heroes who are
trustworthy, intelligent, compassionate and passionate!
(Laurie Gommermann 4:49pm April 8)
Registered users may leave comments.
Log in or register now!