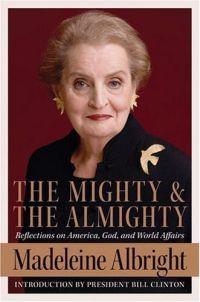 Purchase
Reflections on America, God, and World Affairs
HarperCollins
May 2006
On Sale: March 28, 2007
352 pages
ISBN: 0060892579
EAN: 9780060892579
Hardcover
$25.95
Add to Wish List

Non-Fiction Political | Non-Fiction Memoir
Does America, as George W. Bush has proclaimed, have a special mission, derived from God, to bring liberty and democracy to the world? How much influence does the Christian right have over U.S. foreign policy? And how should America deal with violent Islamist extremists?
Madeleine Albright, the former secretary of state and bestselling author of Madam Secretary, offers a thoughtful and often surprising look at the role of religion in shaping America�s approach to the world. Drawing upon her experiences while in office and her own deepest beliefs about morality, the United States, and the present state of world affairs, a woman noted for plain speaking offers her thoughts about the most controversial topics of our time.
In The Mighty and the Almighty, Madeleine Albright examines the profound impact of religion on America�s view of itself, the effect on U.S. policy of the rise of the Christian right, the Bush administration�s successes and failures in responding to 9/11, the challenges posed by the war in Iraq, and the importance of understanding Islam. She offers a balanced but, when necessary, devastating analysis of U.S. strategy and condemns those of all faiths who exploit religious fervor to create divisions or enhance their own power.
In this illuminating account, Albright argues that, to be effective, U.S. policy-makers must understand the power and place of religion in motivating others and in coloring how American actions are perceived. Defying the conventional wisdom, she suggests not only that religion and politics are inseparable, but that their partnership, when properly harnessed, can be a force for justice and peace.
Also Available in Trade Paper.

Media Buzz
Weekend Edition Saturday - March 31, 2007
Weekend Edition Saturday - March 30, 2007
Anderson Cooper 360 - March 29, 2007
Charlie Rose - March 27, 2007
Colbert Report - March 27, 2007
Colbert Report - May 25, 2006
Colbert Report - May 11, 2006
NewsHour with Jim Lehrer - May 10, 2006
Diane Rehm Show - NPR - May 5, 2006
Charlie Rose - May 3, 2006
Fresh Air - NPR - May 3, 2006
Daily Show with Jon Stewart on Comedy Ce - May 2, 2006
Good Morning America - May 2, 2006

Comments
No comments posted.

Registered users may leave comments.
Log in or register now!