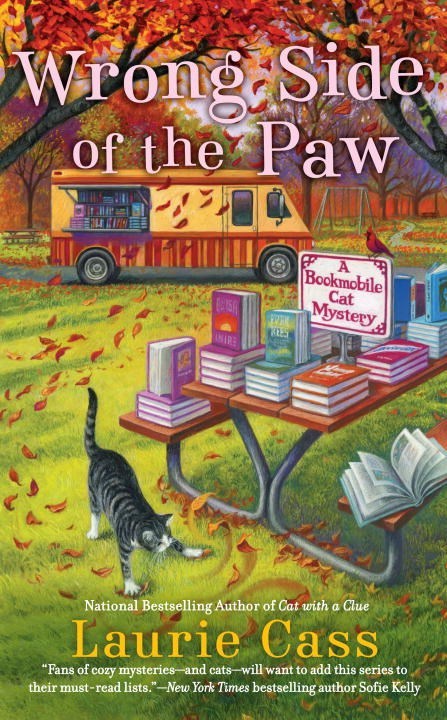 Purchase
Bookmobile Cat #6
Berkley Prime Crime
August 2017
On Sale: July 25, 2017
352 pages
ISBN: 0451476565
EAN: 9780451476562
Kindle: B01N8OIZDF
Mass Market Paperback / e-Book
$7.99
Add to Wish List

Mystery Cozy | Mystery Pet Lovers
As Laurie Cass continues the national bestselling Bookmobile Cat mystery series, librarian Minnie Hamilton is happy to take her bookmobile for a spin with her rescue cat, Eddie—but her tenacious tabby always seems to find trouble...
As the bookmobile rolls along the hills of Chilson, Michigan, Minnie and Eddie spread good cheer and good reads. But when her faithful feline finds his way into the middle of a murder, Minnie is there, like any good librarian, to check it out.
Eddie turns a routine bookmobile stop into anything but when he makes a quick escape and hops into a pickup truck…with a dead body in the flatbed. The friendly local lawyer who was driving the pickup falls under suspicion. But Minnie and Eddie think there's more to this case than meets the eye, and the dynamic duo sets out to leave no page unturned.
Bookmobile Cat
Comments
22 comments posted.
I had my friend's goat climb in the back of my truck when I
wasn't looking...
(Dynal Roberson 6:23pm August 28)
I saw little kids by themselves in one that was speeding down the road. I said a silent prayer for them
(Jeri Dickinson 6:40pm August 28)
I don't understand people who let their kids and pets ride
in the back of a pickup. But I have never found a dead body
in a pickup. Look forward to reading this soon. Thanks for
the contest!!!!
(Teresa Ward 9:03pm August 28)
The worst thing I've seen in the back of a pickup truck? Oh, I'm afraid I don't
spend much time in the backs of pickup trucks!
(John Smith 9:17pm August 28)
I don't believe I have seen anything bad in the back of a
pickup. I have seen some driving down the highway with way
too much packed in that I am worries something will fly
out.
(Nicole Davis 10:08pm August 28)
I've seen children riding in the back of a pickup truck.
(Tanja Dancy 7:51am August 29)
I saw dogs sitting and standing up in the back of a truck not restrained and they were bouncing around, I was afraid they would hit a pot hole or a bump and everybody goes flying out in traffic
(Jeri Dickinson 12:22pm August 29)
Dogs in the back which was worrisome.
(Sharon Berger 1:45pm August 29)
Got to town and my cat was in it - so had to go back and
home and then back to town again! parkeremma2003 at yahoo
dot com
(Jennifer Hansen 9:29pm August 29)
dogs that are not fastened
(Nina Bilik 10:35am August 30)
I saw trash, boxes in the back of one and they were not tied down I got around them as soon as I could, I was afraid they would fall out and not knowing if they were empty or not. Can't wait to read this book I always try to find ones that have cats in them
(Jeri Dickinson 4:46pm August 30)
Teens standing in the back as the truck sped down the highway.
(Sharon Mitchell 5:37pm August 30)
People or dogs in the back while it was moving. (Don't
enter my name in the contest, I've already read the book.)
(Anne Muller 1:53pm August 31)
The worst thing I've seen in the pack of a pickup has to be people! Oh my goodness, so not safe!
(Jamie Stein 4:14pm August 31)
An unsecured television that came crashing down into the street right in
front of my car!
(Debbie Burdeen 5:37pm August 31)
A dirty, old mattress and I don't think they were going to the dumps :).
(Amber Mancebo 7:39pm August 31)
I have seen small children and a deer that someone was
taking home.
(Debra Guyette 8:01pm August 31)
I remember in my college days--- about 20 of us in the
backend of a pickup under a tarp all headed out to party.
(Renee Grandinetti 9:10pm August 31)
I have seen adults, kids, and animals,
especially dogs in the back of pick-up trucks.
Also deer during hunting season.
(Jen Frederick 7:39am September 1)
I've seen furniture and boxes that haven't been tied down properly and have even seen a light weight piece fall off while I was in a car not far behind it.
(Anna Speed 12:35pm September 1)
people sitting in the back of the truck
(Ann Unger 6:26pm September 1)
Oh, this looks adorable. Let's see, the worst thing I've
seen in the back of a pickup? My older siblings and their
friends (one I was totally crushing on), but not me! We
all loaded into the truck when I was a kid to go to the
local lake to swim and spend time on the beach. All the
cool kids got to sit in the back of the pickup but I had
to sit in the front with my parents. So lame!
(Dianne Robbins 9:41pm September 1)
Registered users may leave comments.
Log in or register now!