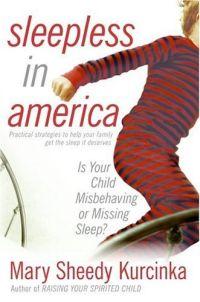 Purchase
Is Your Child Misbehaving or Missing Sleep?
HarperCollins
March 2006
352 pages
ISBN: 0060736011
Hardcover
$24.95
Add to Wish List

Does your child refuse to cooperate in the morning? Get into trouble for not listening? "Lose it" over seemingly insignificant issues? Seem to resist sleep? Are you tired? Really tired?
An estimated 70 million American infants, children, and teens are sleep deprived. Could your child be one of them? Studies have shown that sleep deficits can contribute to hyperactivity, distraction, forgetfulness, learning problems, illness, accidents, and disruptive behaviors. Yet despite overwhelming scientific evidence, the connection between children's sleep habits and their behavioral and health problems has remained, until now, largely unrecognized.
In this warm and practical guide, Mary Sheedy Kurcinka shows you how to:
* recognize whether your child is misbehaving or missing sleep * identify the normal, everyday activities that may be innocently disrupting your child's sleep * end the bedtime and nighttime struggles, and as a result, stop the "misbehaviors" during the day * get the sleep your whole family deserves
Sleepless in America offers weary and frustrated parents a helping hand and an exciting new approach to managing challenging behaviors. With her characteristic enthusiasm, pragmatism, and extensive experience as a teacher and parent educator, Kurcinka explains that often what our misbehaving kids really need is not more "consequences" or more medication, but more sleep. Integrating research on stress, sleep, and temperament with practical strategies and a five-step approach, Sleepless in America enables parents to help their "tired and wired" children get the sleep they so desperately need.
When we choose sleep, we choose a happier, healthier, and more successful life for our families. With Sleepless in America, Mary Sheedy Kurcinka helps us make that choice.

Media Buzz
Good Morning America - April 13, 2006

Comments
No comments posted.

Registered users may leave comments.
Log in or register now!