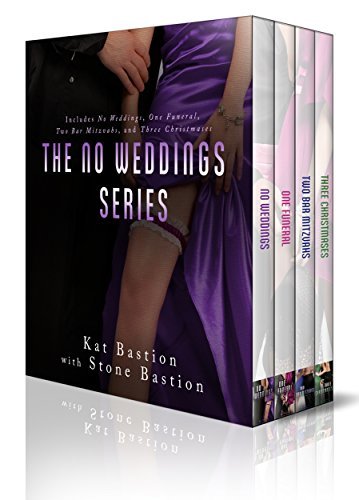 Purchase
No Weddings Limited Edition Box Set: Books 1-4
Kat Bastion, Stone Bastion
We both knew...Love was a battlefield
Author Self-Published
November 2015
On Sale: October 27, 2015
Featuring: Hannah Martin; Cade Michaelson
1120 pages
ISBN: 099641813X
EAN: 2940157738471
Kindle: B014EAQSIY
e-Book
Add to Wish List

Erotica | Romance Contemporary
A limited edition box set of the Bestselling Best of 2014 No Weddings Series, including the novels No Weddings, One Funeral, Two Bar Mitzvahs, and Three Christmases. PLUS a sneak peek of Heartbreaker, the first spinoff novel in The Unbreakable Series.
The No Weddings Limited Edition Box Set includes: ~ No Weddings ~ One Funeral ~ Two Bar Mitzvahs ~ Three Christmases ~ …PLUS a sneak peek of Heartbreaker
NO WEDDINGS SERIES NAMED BEST OF 2014 BY:
Agents of Romance ~ No Weddings "One of the Best Romantic Comedies of the Year!"
Book Bumblings ~ The No Weddings Series "…I love for the realistic drama. And the dirty talk. And the non-dirty parts of their banter. And the humor."
Bookish Temptations ~ Favorite Books: No Weddings and One Funeral Favorite Couple: Cade Michaelson and Hannah Martin Favorite Book Boyfriend: Cade Michaelson Favorite Heroine: Hannah Martin Favorite Secondary Characters: Cade's sisters
Lives & Breathes Book Blog ~ The No Weddings Series in Teri Beth's Top 10 "The No Weddings Series is one of the best I have read that follows one couple. Cade and Hannah are both lovable characters, the storyline is real and entertaining, and the banter is fun and witty."
Orchard Book Club ~ No Weddings in Nicola's Top 6 of 2014 "I loved it, and I mean REALLY loved it!"
The Smutsonian ~ Best First Book in a Series: No Weddings
The SubClub Books ~ No Weddings in Gaz's Top 14 Reads of 2014
Trips Down Imagination Road ~ Best Book Read in 2014: No Weddings Best Series Best Sequel Most Memorable Character: Cade Michaelson Newest Fictional Crush: Cade Michaelson Most FUN to read: "The No Weddings series, I was laughing aloud and feeling the fun right along with them!"
~~~
NO WEDDINGS Award-winning author Kat Bastion teams with her husband, Stone Bastion, in this first book in the No Weddings Series about Cade Michaelson, a successful man with his sights set on a new venture in business, and Hannah Martin, the woman who makes it personal.
ONE FUNERAL The stakes climb higher in this second book in the No Weddings Series for Hannah Martin, a woman restrained by her past, and Cade Michaelson, the man who could help set her free.
TWO BAR MITZVAHS Summer heats up in this third book in the No Weddings Series, where Cade Michaelson strives to balance his and Hannah Martin's new relationship with the growing demands of his financial success.
THREE CHRISTMASES As the holiday season approaches in this fourth book in the No Weddings Series, Cade Michaelson strives to be better at balancing work and love, and Hannah Martin's growing ability to trust is put to the test.
*** PLEASE NOTE *** Scorching (explicit) sex scenes. Fire extinguisher highly recommended.
Comments
No comments posted.

Registered users may leave comments.
Log in or register now!