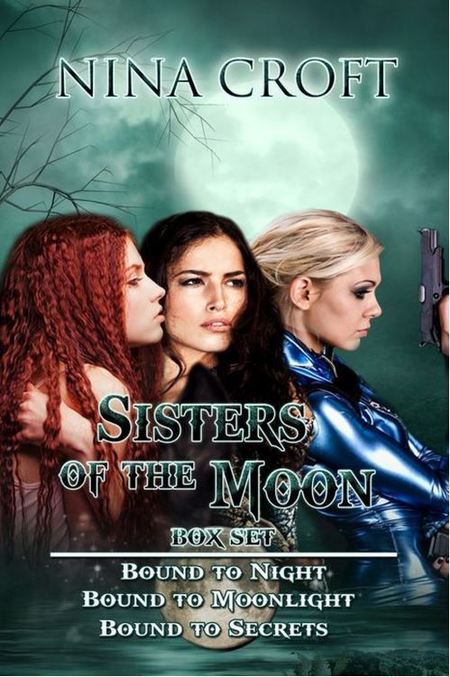 Purchase
Sisters of the Moon Boxed Set
Nina Croft
Telepathic sisters, lost to each other and fighting for their right to survive
Sisters of the Moon Collection
Author Self-Published
December 2012
On Sale: December 8, 2012
269 pages
ISBN: 0044515766
EAN: 2940044515765
Kindle: B00ALAVU7G
e-Book
Add to Wish List

This edition contains three novellas:
BOUND TO NIGHT
Waking up after a brutal werewolf attack, telepath Tasha Grant finds herself a prisoner of The Facility, an organization carrying out illegal research into the paranormal. She dreams of freedom, a normal life, and going home, but after eight long years, she believes it will never happen. Her life changes with the arrival of the stunningly gorgeous Jack, the latest unwilling guest of The Facility. Passion flares between them, but Jack refuses to share his body or his mind.
Jack must fight his burning desire for Tasha; he has a job to do—destroying The Facility—plus a very good reason for keeping his distance from for the young werewolf. Only when they escape their prison, does he admit his feelings and accept the possibility of a future together. However, Tasha yearns for a normal life, and Jack is a vampire…
As the past unravels and they uncover the secrets behind Tasha's attack, she realizes that 'home' is farther away than ever. Now, she must decide if that matters when the alternative is a place at Jack's side…
BOUND TO MOONLIGHT
Anya, a powerful telepath, has always believed she worked for the good guys–the organization that created her, trained her, and turned her into the ultimate weapon. Her most recent assignment: assassinate the head of a group of mercenaries. The very man she believes is responsible for the death of her sister.
Investigating the disappearance of three pack members, Alpha werewolf, Sebastian Quinn, finds himself under the scrutiny of a deadly group, The Agency. Targeted by their assassin, he must now fight to save his own life.
Captured and held by the charismatic werewolf, Anya feels the stirrings of passion. For the first time, there is something beyond duty. Now she is faced with a choice — complete her assigned mission or risk everything she has ever known for a chance at love.
BOUND TO SECRETS
Six years ago, an attack by a rogue werewolf plunged Doctor Connor McNair's perfect life into nightmare. Now the mere scent of blood awakens the beast within him. He's teetering on the brink of self-destruction when an intriguing rumor leads him to the desolation of Rannoch Moor and the one woman who might call him back from the darkness.
Part of a telepathic experiment that went dangerously wrong, Keira's mind will destroy anyone who gets too close. Unable to control her powers, she has cut herself off from all human contact and found a measure of peace hiding on the moors with only the wild animals for company. Until Connor arrives, awakening hopes and desires buried deep inside her.
Connor is determined to save her, but some wounds are beyond the powers of a doctor to heal and time is running out, because Keira's mind holds secrets that certain people would kill to keep hidden…
Sisters of the Moon
Comments
No comments posted.

Registered users may leave comments.
Log in or register now!