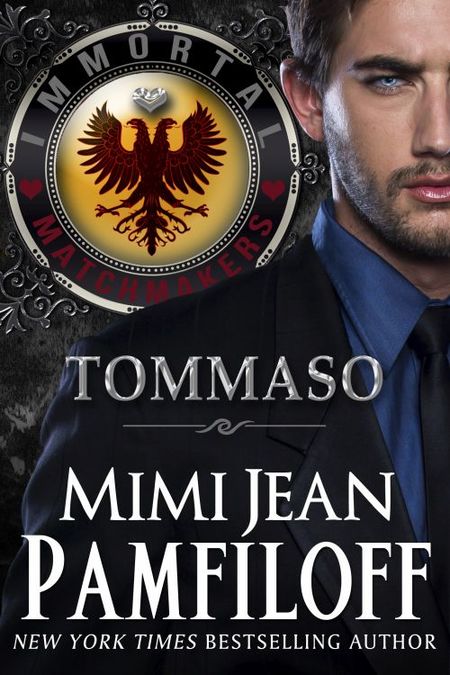 Purchase
Immortal Matchmakers, Inc. #2
Author Self-Published
June 2016
On Sale: May 24, 2016
Featuring: Tommaso Fierro
228 pages
ISBN: 1943983011
EAN: 2940158100116
Kindle: B01FI5PZLA
e-Book
Add to Wish List

From New York Times Bestseller Mimi Jean Pamfiloff...
TOMMASO, Book #2, The Immortal Matchmakers, Inc. Series (Standalone)
SOMETIMES, HOT MEN CAN BE REAL MONSTERS...
Tommaso Fierro is used to the finer things in life--nice suits, nice car, nice house. Okay, his past isn't so nice, but that's in the past. Or at least it was until he blacked out after meeting the woman of his dreams.
Annnd possibly capturing her.
Annnd possibly terrorizing her before she got away.
Annnd discovering that he's turning into a horrible creature he loathes with all his heart.
Luckily, there's a cure. Unluckily, it will require him to track this woman down and convince her to give him a second chance. But if he finds her, will she ever believe that he's really not a monster?
Immortal Matchmakers, Inc.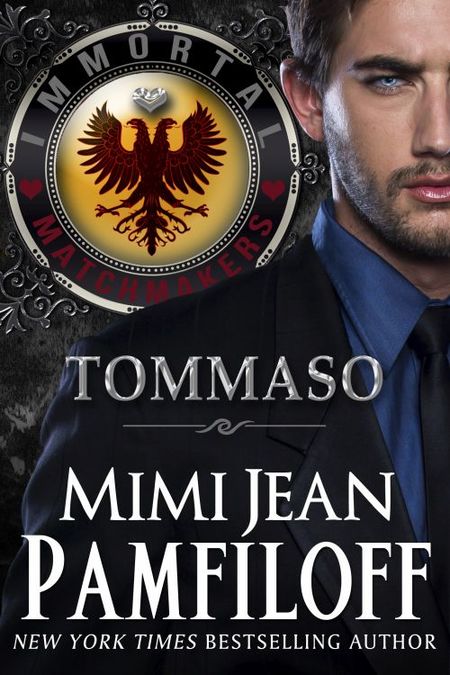 Tommaso
#2.0
Kindle | BN.com | iTunes/iBooks | Kobo | Google Play
Comments
23 comments posted.
Re: Tommaso

Looks like a very interesting book, I'd love to read it.
(Linda Henderson 1:21pm May 26, 2016)
Would love to read your book!!
(Jean Benedict 1:59pm May 26, 2016)
Just finished! And....LOVE!!!
(Yvette Grimes 2:48pm May 26, 2016)
Mimi NEVER disappoints. Her books are hot,funny,intense, and
hot. Yes hot is first and last on my list. She makes her
characters into people I would love to know. Well...except the
maaskabs and maybe Minky. This book is no exception. Hide in
your bedroom with the door locked and do not disturb sign on
the knob good.
(Tina Lynn 3:22pm May 26, 2016)
I love all the different series Mimi has written.
(Cathy Atchison 4:47pm May 26, 2016)
After reading all this I so want to read this book, it sounds exciting from beginning to end!
(Christie Temple 5:42pm May 26, 2016)
Well, this sounds like a great story! I love humor and kickass
heroines!
(Kathleen Bylsma 7:02pm May 26, 2016)
I can't wait to read this book. It's on my TBR pile :)
(Vanessa Hinman 8:11pm May 26, 2016)
This novel sounds captivating and wonderful. Thanks.
(Sharon Berger 8:50pm May 26, 2016)
Beautiful cover! And very intriguing blurb!
(Lisa L. 10:40pm May 26, 2016)
He certainly has his work cut out for him, but who can resist a truly contrite, smoking hot man. I can't wait to read this one.
(Sharon Mitchell 1:56am May 27, 2016)
I love the cover and the blog. This is one book I would love to read! Thanks for the chance to win it!
(Bonnie Capuano 8:40am May 27, 2016)
This book sounds HOT HOT HOT ,did I say HOT ? I don't know if I'll be able to read such a HOT book , but I'll try !
(Joan Thrasher 11:12am May 27, 2016)
Books looks really interesting
(Patricia Wagner 1:48pm May 28, 2016)
I know that many men can do some not-so-nice things, but turning into a monster is a little over the top!
(Carol Gowett 3:59pm May 28, 2016)
I love her humor...sounds like a great read!
(Nancy Ludvik 12:34pm May 29, 2016)
Tommaso sounds yummy!
(Janie McGaugh 6:20pm May 29, 2016)
This sounds good! I'd love to read it.
(Connie Williamson 8:43pm May 29, 2016)
"Cimil" is quite funny.
(Krypton I 10:53am May 30, 2016)
Sounds fascinating!
(Chris Aahz 5:28pm May 30, 2016)
TOMMASO, Book #2 sounds like a read I'd enjoy! Thanks for having a giveaway! And I hope your Memorial Day is great!
(Betsy Pauzauskie 7:37pm May 30, 2016)
The book sounds like a good read. I would love to read it.
(Cynthia Cook 7:52pm May 30, 2016)
Love it when a character takes over a blog post.
(Laura Gullickson 1:19am May 31, 2016)
Registered users may leave comments.
Log in or register now!