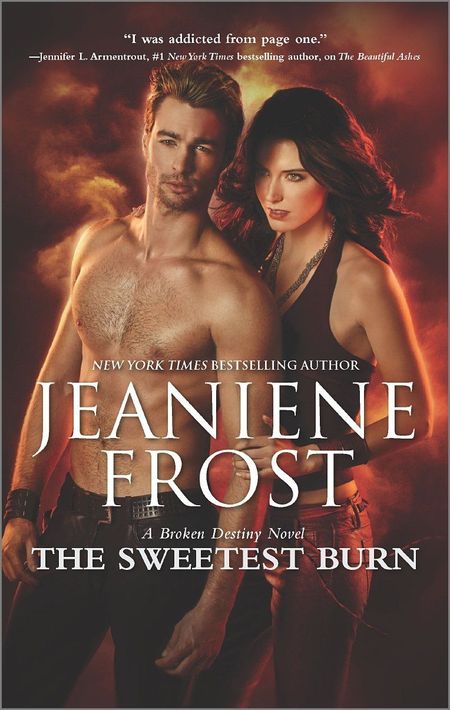 Purchase
Broken Destiny
HQN
June 2017
On Sale: May 30, 2017
Featuring: Adrian; Ivy
304 pages
ISBN: 0373789416
EAN: 9780373789412
Kindle: B011IAE6NW
Paperback / e-Book
Add to Wish List

The breathtaking second novel in New York Times bestselling author Jeaniene Frost's Broken Destiny series finds Ivy and Adrian rekindling their alliance—and passion—as the struggle for the fate of the world begins…
Conquering a supernatural realm turned out to be easier than getting over a broken heart. But her initial victory has made Ivy a target for revenge, forcing her to reunite with the dangerous—and dangerously sexy—Adrian. Ivy isn't sure which will be harder: finding the hallowed weapon that will repair the crumbling walls between the demon and human realms, or resisting Adrian, who's decided that come hell or high water, he will make Ivy his.
At first, Adrian tried to resist his feelings for Ivy. Now, determined to break the curse that dooms their love, he's vowed to save her and to have her. If only he can persuade her to forgive his past sins. But defying destiny—and surrendering to the smoldering desire between them—will bring consequences and sacrifices they never imagined…
Broken Destiny

The Beautiful Ashes
#1.0
Amazon.com | BN.com | | |
Comments
21 comments posted.
Great review and thanks! Love her books!
(Kathleen Bylsma 3:40pm June 29)
Gosh. I have a really poor imagination (one reason why I
buy my books instead of write them!) For myself, I would
love strength and speed. But then, I would imagine
drawbacks to that as well. In my weakness, I've been
able to enjoy patting small animals and cuddling babies.
I may walk slowly, but I enjoy the sights along the way.
One must wonder what would be sacrificed for the
privilege of super powers....
(Marcia Berbeza 11:11pm July 27)
What about the ability to steal a power from another, leaving that person powerless until another gift is stolen?
(Angela Daffern 10:31am July 28)
healing or to find people dead or alive. I would love to have either one.
(Jennifer Beck 12:35pm July 28)
The ability to calm toddlers simply by glancing at them.
(G. Bisbjerg 4:07pm July 28)
Aside from your characters, agree that Mercy, Anita, Jane
Yellowrock and Gin are great strong females.
(Kathleen Bylsma 6:44pm July 28)
Great super power would be to see the future!!
(Jean Benedict 4:15pm July 30)
I can't think of any supernatural powers that haven't been
covered by someone. I loved that some of your vampires could
fly and would like to see more characters able to do so, even
it it's because they're shapeshifters.
(Janie McGaugh 4:51pm July 30)
Being able to see the future could be a curse and not a blessing. Super speed or maybe not needing to sleep.
(Cynthia Cook 4:52pm July 30)
I love all your books. I think the next super power would
be teleportation... One blink of time you are somewhere
else. :)
(Jeannie Platt 5:55pm July 30)
Thanks for sharing your writing process. I love hearing
how writers do their craft.
(Alyson Widen 11:12pm July 30)
I think having the ability to time travel back 5 minutes would be good.
(Norma Storms 1:46pm July 31)
Being a Slider to go from one dimension to another alternative dimension.
(Kai Wong 11:46pm July 31)
I think teleportation or being able to alter
your body to walk through walls and whatnot
would be a great power plus could open up a lot
of situations to be involved in.
(Nicole Newman 12:18pm August 1)
Being able to read minds
(Tanja Dancy 8:32pm August 1)
I'm so excited to get my hands on book 2!!
(Amber Niebaum 1:08am August 2)
The ability to stop crimes from happening
(Shakeia Rieux 6:58am August 2)
Time travel, teleportation, boundary manipulation.

Great interview! Looking forward to the Night Rebel series!
(Mindy G 4:37pm August 2)
Hmm, that's a tough one. I think a supernatural power that could be explored would be languages. Not just human languages but languages spoken by other beings. A universal translator that ends up in lots of situations that brings a group of characters together to face obstacles towards a peaceful union in worlds? Seriously, I just went along with the language power suggestion.
(Ela Raymundo 5:46pm August 2)
Angels
Marilyn
(Marilyn Collins 8:56pm August 2)
Cleaning :) But seriously, thinking beyond my SAHM-mind, think of how useful that
would be for cleaning up murder scenes, etc.
(Lauren Sullivan 1:55pm August 5)
Registered users may leave comments.
Log in or register now!