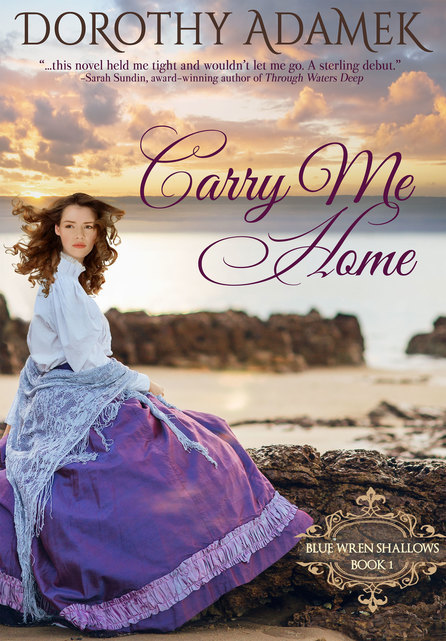 Purchase
Blue Wren Shallows #1
Crabapple House Publishing
December 2015
On Sale: December 1, 2015
Featuring: Finella Mayfield
ISBN: 0994457200
EAN: 9780994457202
Kindle: B0186TC6GC
Paperback / e-Book
Add to Wish List

Finella Mayfield hates two things: liars and thieves. And she's determined to marry a man who's neither. Chasing her dead father's dreams, the twenty-year-old English bride arrives in Australia in 1875 for an arranged marriage. Anticipating her future as village preacher's wife, she records her thoughts in her Everlasting journal.
But instead of her fiancé, Finella is met by Shadrach Jones, a poor farmer sent to collect her from the busy Melbourne pier. This is not what her father planned. And it's only the beginning of the unraveling of Finella Mayfield ~ the bride with no groom. All Shadrach Jones longs for is rows of mustard and chicory. He's busy growing a farm near the Phillip Island fishing village of Cowes, and caring for Molly, his simple sister. Far from the brutal life they remember with their ex-convict father, Shadrach's building something new.
But he's also made a promise to a dying friend. To collect and marry the English girl destined to never be a preacher's wife. Can Shadrach convince Finella she has a future with a farmer? Can he convince himself, knowing his family secrets will haunt their future?
Carry Me Home ~ Book 1 in the Blue Wren Shallows series. An Australian historical romance set in the pioneering era of the 1870s, on Victoria's majestic Phillip Island.
Comments
23 comments posted.
Re: Carry Me Home

No Aussie hero I can say offhand. I have been to Australia
twice and had wonderful trips. I have added your book to my
TBR list and thanks for a clean romance. Many years ago, I
read The Southern Cross but do not remember the author.
(Leona Olson 7:24am December 11, 2015)
I have never been to Australia but it's on my "Bucket List"! There are so many wonderful Australian actors out there so I can't name my favorite both Hemsworth Brothers, of course. I have place this book on my TBR list and look forward to reading it!!! Great giveaway!!!
(Bonnie Capuano 8:20am December 11, 2015)
Due to the fact that I really don't watch movies, and don't keep
up with any stars, I don't know of any Aussie celebrities,
unfortunately!! I prefer to read, and to do my volunteer work,
as well as stay busy being the Manager at the apartments where my
Husband and I live, which takes up all of our time. Your latest
book sounds like a real page-turner, and I've already put it on
my TBR list. Congratulations on what I'm sure will be a big
seller!! Your part of the world sounds wonderful, since I would
give anything to be able to watch the penguins in their own
environment!!
(Peggy Roberson 9:52am December 11, 2015)
I would love to win this book!
(Linda Barrier 10:33am December 11, 2015)
I love Australia! Went there years ago - as a dream destination. Still love ALL things Aussie. Your book sounds great. Thanks for the chance to win.
(Nancy Reynolds 11:28am December 11, 2015)
Wonderful feature and giveaway. Thanks for an interesting
post. Australia is captivating. Thanks.
(Sharon Berger 12:33pm December 11, 2015)
I'm not familiar with Aussie Actors. I would love to read CARRY ME HOME.
(Caryl Kane 8:31pm December 11, 2015)
Russell Crowe
(Marissa Yip-Young 6:34am December 12, 2015)
My favorite Aussie celebrity is Bindi Irwin. Loved her on "Dancing with the Stars". She's a spunky little thing, so I think she'd be great inspiration for a heroine in a novel!
(Lu Loy 7:56am December 12, 2015)
I have not been to Australia but would love to go some time . My friend and her husband went and met this couple and they were invited to their home . So the next year the Aussie couple came to the U.S.A. to visit. I was fortunate to meet them and I fixed dinner one evening for all. I did enjoy them so much , could listen to them talk all night . So , I don't have an Aussie hero but, I do love them.
(Joan Thrasher 10:03am December 12, 2015)
for sure bindi, would love to visit australia
(Debbi Shaw 1:03pm December 12, 2015)
This book definitely sounds like a book I'd love to read and have placed it on my TBR list. Great giveaway!!!
(Bonnie Capuano 1:50pm December 12, 2015)
I like Keith Urban only aussie I can think of
(Joy Isley 4:15pm December 12, 2015)
Jason Day, the pro golfer, is my favorite because he
overcame such a tough childhood.
(Sue Farrell 10:03am December 13, 2015)
Chris Hemsworth hottie
(Emily Stemp 10:14am December 13, 2015)
I don't really have a favorite Aussie celebrity.
(Carrie Edmunds 12:10pm December 14, 2015)
I think about the only Aussie Celebrity I know is Brandi Irwin who was on
Dancing with the Stars. For someone who has not had any dancing
experience she did a fantastic job. I am also a fan of Anna Campbell's
books who I believe is also from Australia.
(Pam Alderson 4:34pm December 14, 2015)
I don't have an aussie hero, not familiar with any. I don't see
too many movies. But this does sound like a good story. Thanks for
this opportunity.
(Nancy Luebke 7:59pm December 14, 2015)
Oh, the Hemsworth brothers are probably also my favorites from Australia.
They are just gorgeous!!
(Lily Shah 12:25pm December 15, 2015)
I have to say Bindi Irwin too, along with her father who I enjoyed watching on TV while he was here
(Nicole Bouchey 6:09pm December 15, 2015)
Bindi Irwin is great. I would love a chance to take a vacation down under in Australia. I hope to win.
(Cindy Davenport 6:12pm December 15, 2015)
Love the premise of the book. Australia is on my list of places to visit. The
only thing that scares me are the snakes.

This book was added to my Goodread list.
(Sonnetta Jones 6:40pm December 16, 2015)
I do not have a favorite Aussie hero, but would love to visit Australia. I find stories about the unusual animals found there that cannot be found in any other part of the world and then there are the desert regions, opals, Aboriginal natives, and a fascinating history.
(Anna Speed 7:23pm December 16, 2015)
Registered users may leave comments.
Log in or register now!