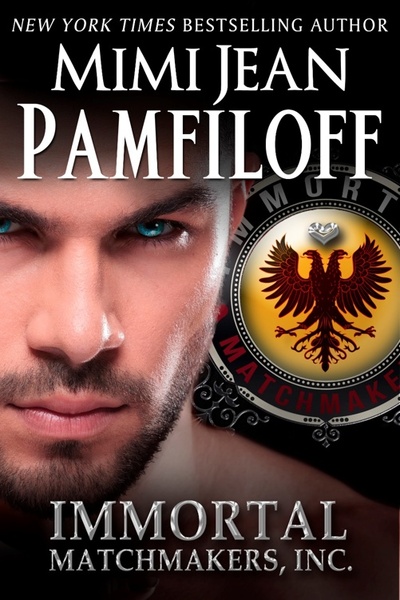 Purchase
Immortal Matchmakers, Inc. #1
Self Published
September 2015
On Sale: August 21, 2015
Featuring: Cimil; Sadie Townsend; Andrus Gray
199 pages
ISBN: 0151033374
EAN: 2940151033374
Kindle: B014AMK9UE
e-Book
Add to Wish List

From New York Times Bestseller Mimi Jean Pamfiloff... Immortal Matchmakers, Inc. (Because dysfunctional immortals need love, too.) SEVEN DAYS TO GO FROM LETHAL IMMORTAL ASSASSIN TO PRINCE CHARMING. DOES HE STAND A CHANCE?
Demigod Andrus Gray may look like every woman's dream, but when it comes to charm, he sees no point in pretending: He has none and makes no apologies for it. Behaving nicely hasn't made him the deadly assassin he is today. But is that really the reason he's still single?
The Goddess Cimil—owner of Immortal Matchmakers, Inc.— thinks yes. So when she foresees a mate in Andrus's near future, she's determined to make the match happen. That means hiring aspiring actress Sadie Townsend to help the barbarian "act" a little more civilized.
But are seven days really enough? And why does he suddenly have the urge to throw away an eternity of love for just one night with Sadie?
Immortal Matchmakers, Inc.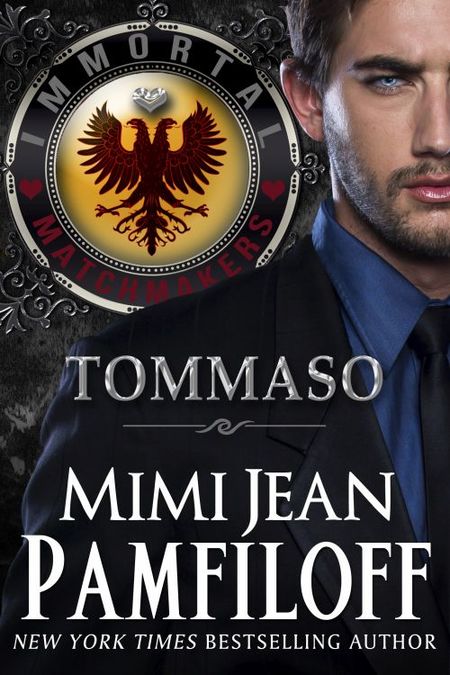 Tommaso
#2.0
Kindle | BN.com | Apple Books | Kobo | Google Play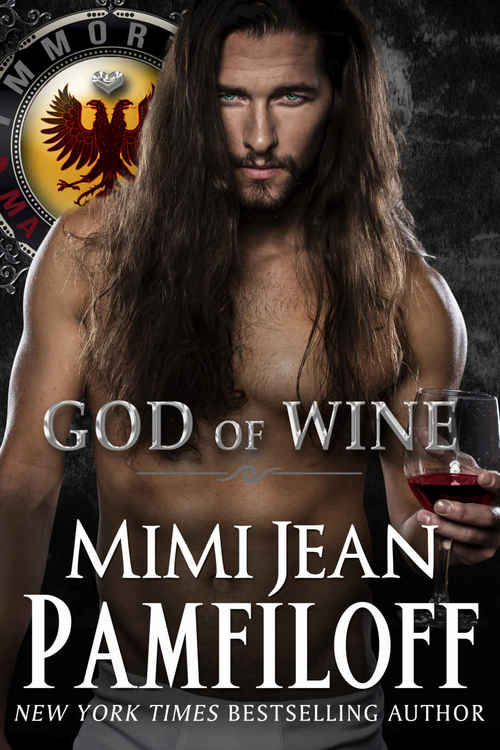 God Of Wine
#3.0
Kindle | BN.com | Apple Books | Kobo | Google Play
Comments
31 comments posted.
Re: Immortal Matchmakers, Inc.

I'm not a writer - yet, so there's a different type of
inspiration that I look for. Being an avid knitter and
crocheter, and being a volunteer to teach a class every
week, causes me to look in other places. When I'm out
shopping, I pay attention to the knit items that are out on
the racks, and see what colors are popular, as well as the
styles. I also see if there's anything I could make a copy
of myself. There are also a lot of sites to look at, as
well as patterns to get. A person could get lost for hours,
not only looking at patterns, but looking at new techniques
that someone has come up with, as well as new stitches.
Although this pastime can be relaxing, too much can be
stressful at times, and to relax from it, I love to read, or
just get away from it for a bit. Where I live, I have one
of the Great Lakes a mile away from me, with a public beach,
4 miles away. There are also a few small shops I can go
into to look around. There is also farmland and some woods
around me. The wildlife is incredible, and if I just sit
out on the deck, the view is so relaxing!! Sorry for the
long post, but I suppose I came up with a lot of ideas,
too!! Looking forward to reading your book.
(Peggy Roberson 9:41am August 27, 2015)
Sitting in the sun.
(Marissa Yip-Young 10:00am August 27, 2015)
Nature inspires me for when I am in the mood to draw... always lifts my spirits.
(Colleen Conklin 1:04pm August 27, 2015)
Listening to music inspires my creativity.
(G. Bisbjerg 2:42pm August 27, 2015)
Taking a drive, can help. I use it for settings for the
writing class I'm taking.
(Diana Thomas 10:47pm August 27, 2015)
I'm a total night owl I like to sit outside in the dark and
just be
(Lani Miller 7:14am August 28, 2015)
I love tolay out on my hammock and watch nature and just
relax!
(Maria Smith 10:29am August 28, 2015)
I love to go shopping at the Mall or can stay home and get on the computer and look and shop if I want to . I can look and look and never buy .
(Joan Thrasher 12:58pm August 28, 2015)
coffee in the flower garden.....
(Debbi Shaw 10:09pm August 28, 2015)
I like to edit videos and turn them into a story.
(Carrie Edmunds 7:38am August 29, 2015)
Sit on my porch swing :)
(Dianne McVetty 7:46am August 29, 2015)
NICE
(Jeanette Schroeder 10:03am August 29, 2015)
First, I have to have a clean house if I want to get anything done. If the house is clean and I still need some inspiration, to the beach with me--grab my boots and a take a walk!
(Diana Portwood 1:39pm August 29, 2015)
(Also, I love this series, it's a blast to read, thanks for writing such fun books!)
(Diana Portwood 1:40pm August 29, 2015)
I wish I had writer's block because that meant I could
write. Unfortunately, I can't string two sentences
together.
(Barbara Miller 3:57pm August 29, 2015)
I would love to win and read this book.
(Kathy Church 5:34pm August 29, 2015)
well that would be easy like to go to the ghost and sit and see who come out of the house or the haunted place and then see if they talk to me when we went to the one in Loretta Lynn place it was so weird it made me sick to my stomach
but i found that the battle field and then i went and talk to loretta mom and then her and told her what i saw and took pic of
(Desiree Reilly 7:14pm August 29, 2015)
I make jewelry and do other crafts and when I'm having creative issues I will look through catalogs for inspiration (and not just bead catalogs). I will also just keep playing around with my beads and things until something finally 'clicks' so to speak. Unfortunately though, sometimes the only way to jump start the creativity is to give the jewelry making a rest for a few hours or even a few days.
(Ida Stone 2:51am August 30, 2015)
Can't wait for the book
(Shannon Casteel 8:00am August 30, 2015)
You just have to do. So write and eventually you will get the creative juices flowing.
(Pam Howell 8:09am August 30, 2015)
Putting on music.
(Christina Riggs 8:12am August 30, 2015)
Watching nature unfold
(Mary Lynn Hayes 8:39am August 30, 2015)
Now this is an interesting concept, one I've not read before. I's very interested in seeing how this plays out!
(Kathleen Bylsma 12:59pm August 30, 2015)
To be creative, first I have to relax. I do that by sitting in front of my aquarium and just watching the fish swim around.
(Nancy Marcho 1:56pm August 30, 2015)
I read..gets the juices flowing
(Gwenn Ostman 2:11pm August 30, 2015)
Going to the beach and walking along the water listening to the
waves!
(Denise Austin 2:21pm August 30, 2015)
I turn on music.
(Racquelle Robinson 3:42pm August 30, 2015)
Taking classes in quilting, attending quilt shows, and visiting fabric shops inspire my creativity. Congrats on your new release! I love the Accidentally Yours series and look forward to reading your Immortal Matchmakers, Inc. series.
(Bonnie Hometchko 9:24pm August 30, 2015)
I'm not a fiction writer, but rather a software designer, and we do have to write things like design documents, marketing blurbs for our new features and more. It's so very technical, "left brain" thinking. When I'm stuck on a software design or problem, exercise the other, more artistic "right" side of my brain by logging onto the Shoes of Prey website (www.shoesofprey.com) and design my own shoes. It's an interactive application where you can design everything from flip flops to boots..pick your fabric, heel height, straps, leather color and more. I design for hours..but only have purchased my custom designed shoes a couple of times. After a fun design session, I'm ready to get back to the software stuff!
(Char Jorgenson 10:53pm August 30, 2015)
One of my favorite ways to spur creativity is by looking at
the clouds and daydreaming. It is fun to see different
shapes the clouds can make as they drift by.
(Fred Holmes 11:25pm August 30, 2015)
I'm looking forward to reading your book :)
(Lori Harvey 6:48pm August 31, 2015)
Registered users may leave comments.
Log in or register now!